Delayed Rays of a Star: A Novel (Hardcover)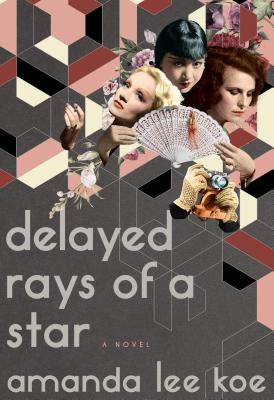 Description
---
Named a most anticipated book of the summer by ELLE, USA Today, Thrillist, Kirkus, and LitHub

A dazzling debut novel following the lives of three groundbreaking women--Marlene Dietrich, Anna May Wong, and Leni Riefenstahl--cinema legends who lit up the twentieth century

At a chance encounter at a Berlin soirée in 1928, the photographer Alfred Eisenstaedt captures three very different women together in one frame: up-and-coming German actress Marlene Dietrich, who would wend her way into Hollywood as one of its lasting icons; Anna May Wong, the world's first Chinese American star, playing for bit parts while dreaming of breaking away from her father's modest laundry; and Leni Riefenstahl, whose work as a director would first make her famous--then, infamous.
     From this curious point of intersection, Delayed Rays of a Star lets loose the trajectories of these women's lives. From Weimar Berlin to LA's Chinatown, from a seaside resort in East Germany to a luxury apartment on the Champs-Élysées, the different settings they inhabit are as richly textured as the roles they play: siren, muse, predator, or lover, each one a carefully calibrated performance. And in the orbit of each star live secondary players--a Chinese immigrant housemaid, a German soldier on leave from North Africa, a pompous Hollywood director--whose voices and viewpoints reveal the legacy each woman left in her own time, as well as in ours.
     Amanda Lee Koe's playful, wry prose guides the reader dexterously around murky questions of ego, persona, complicity, desire, and difference. Intimate and raw, Delayed Rays of a Star is a visceral depiction of womanhood--its particular hungers, its calculations, and its eventual betrayals--and announces a bold new literary voice.
About the Author
---
AMANDA LEE KOE is the fiction editor of Esquire Singapore and the editor of the National Museum of Singapore's film journal, Cinémathèque Quarterly. She was a 2013 fellow of the International Writing Program at the University of Iowa and a 2016 awardee of the PEN/Heim Translation Grant. Her working manuscript for this novel won the 2017 Henfield Prize, awarded to the best work of fiction by a graduating MFA candidate at Columbia University. She is also the youngest winner of the Singapore Literature Prize for her first book, the story collection Ministry of Moral Panic. Born in Singapore, she has lived in Bangkok, Beijing, and Berlin, and is now based in New York.
Praise For…
---
"This is a voraciously intelligent, heartrending novel. Few books have so much life in them, or are so willing to explore the terrors of war and desire, the ruthlessness of genius. Maybe this novel can face the dark so fearlessly because it is itself so radiant, a blazing star. Amanda Lee Koe is a brilliant writer."
—Garth Greenwell, author of What Belongs to You

"In this swirling, brilliant debut, both the famous and the unknown struggle to navigate the tides of history. Cultures collide, horizons appear, worlds collapse. Filled with hope and desperation, Amanda Lee Koe's novel is a timely and timeless enquiry into what it means to be a woman, and a human being, in a universe that often seems not to care."
—Tash Aw, author of The Harmony Silk Factory and We, the Survivors
 
"With a cool eye, devastating honesty, and an abundance of compassion, Amanda Lee Koe traverses the first half of the 20th century to bring 21st-century insights into the complex sexuality of women, the effects of racism, and the ruins that fascism left in its wake. A profound examination of the agony of power, the caprice of fame, and the indignities of growing old, Delayed Rays of a Star is a rare gem—a page-turning, inventive literary novel that is learned and wise. An absolute must read."
—Binnie Kirshenbaum, author of Rabbits for Food

"Delayed Rays of a Star is a big, globetrotting, time-traveling wonder of a novel that made me laugh and in a hundred other ways appreciate the playful brilliance of Amanda Lee Koe. This is literature to feast upon and share, and a bold new voice to celebrate."
—Ben Metcalf, author of Against the Country

"A decade- and continent-spanning novel . . . It's the steady accumulation of intimate details that creates a sweeping sense of history that feels truly alive. Expansive, complex, and utterly engrossing."
—Kirkus Reviews, starred review
 
"Koe's ambitious and well-researched debut novel successfully melds historical fact with expansive and generous storytelling . . . Throughout, their stories contend with the notion of authenticity in life and art—of how performers define themselves in the public sphere and behind closed doors. Readers will find much to ponder in these vivid, fictionalized deep dives into three women who changed cinema."
—Publishers Weekly
 
"Expansive and engaging, Koe's debut novel explores the lives of three famous women, their art, and the price of fame . . . Koe brings her well-known protagonists to life, and manages a sprawling story with panache."
—Booklist