A sun-warmed bed of daffodils, a tub of cool water, a fresh supply of birdseed, and a new cob of corn create A Perfect Day (Roaring Brook, $17.99) for a cat, dog, chickadee, and squirrel relaxing in their human pal Bert's backyard. But alas! The perfection lasts only until Bear arrives. As Bert and his animal friends watch from the safety of the boy's house, Bear helps himself to the very same pleasures the other creatures were just enjoying. Textured, mixed-media artwork by author/illustrator Lane Smith bring to life the tale of an unexpected visitor. Ages 3-6.

$17.99
ISBN: 9781626725362
Availability: Not On Our Shelves—Ships in 1-5 Days
Published: Roaring Brook Press - February 14th, 2017
---
Cynthia Leonor Garza introduces readers to the acrobatic Mexican masked wrestler tradition, lucha libre, in an exciting playground adventure. When some boys tell Lucía that girls can't be superheroes, she gets "spicy mad." But her grandmother has a plan, and shares a special box with Lucía—containing Abuela's childhood mask and cape. And so Lucía the Luchadora (POW!, $16.99) arrives; she "is brave and full of heart, and isn't afraid to fight for what is right." Alyssa Bermudez's opaque watercolors bring the playground kids to kinetic life, as well as the joy of Lucía's heroics—mask or no mask! Ages 4-7.

$16.99
ISBN: 9781576878279
Availability: Not On Our Shelves—Ships in 1-5 Days
Published: POW! - March 7th, 2017
---
A young boy's dip into a pool occasions a meditation on the many ways things can get Wet (Henry Holt, $16.99). He illustrates one technique for accomplishing this as he does a cannonball and sprays his friends with pool water. Playground slides and benches, goldfish, and school floors: there's water everywhere he looks! Carey Sookocheff's muted color palette and simple figures render the world as a child might see it. This is the perfect book to cozy up with on a summer afternoon. Ages 4-8.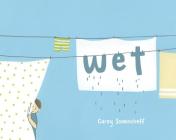 $16.99
ISBN: 9781627797757
Availability: Not On Our Shelves—Ships in 1-5 Days
Published: Henry Holt & Company - June 20th, 2017
---
Pages