A young boy's dip into a pool occasions a meditation on the many ways things can get Wet (Henry Holt, $16.99). He illustrates one technique for accomplishing this as he does a cannonball and sprays his friends with pool water. Playground slides and benches, goldfish, and school floors: there's water everywhere he looks! Carey Sookocheff's muted color palette and simple figures render the world as a child might see it. This is the perfect book to cozy up with on a summer afternoon. Ages 4-8.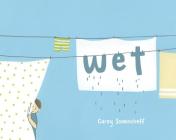 $16.99
ISBN: 9781627797757
Availability: Not On Our Shelves—Ships in 1-5 Days
Published: Henry Holt & Company - June 20th, 2017
---
Obe Devlin lives with his family in a farmhouse surrounded by subdivisions. He's just discovered (and named) Marvin Gardens, an odd creature—dog, pig, algae?—that eats plastic refuse discarded in the creek near Obe's house. Amy Sarig King's intriguing and timely middle-grade debut Me and Marvin Gardens (Arthur A. Levine, $16.99) succeeds in tackling bullying, family problems, and environmental issues simultaneously. The hopeful conclusion will reaffirm readers' faith in science and people. Ages 9-12.

$16.99
ISBN: 9780545870740
Availability: Not On Our Shelves—Ships in 1-5 Days
Published: Arthur A. Levine Books - January 31st, 2017
---
After 15-year-old Julie Beaufort-Stuart returns to her family estate in Scotland for a final summer before it's sold, she's struck unconscious by a blow to the head. Upon regaining consciousness in the hospital, she learns that her grandfather's river pearls have been stolen and the scholar who's been cataloging the estate's antiques is missing. A mystery drives The Pearl Thief (Hyperion, $18.99) forward, but within its twists and turns author Elizabeth Wein develops a complex picture of life around the Scottish hamlet of Strathfearn. Fans of Code Name Verity will savor this prequel, while newcomers to Wein's novels will enjoy the novel as a stand-alone tale. Ages 14-17.

$18.99
ISBN: 9781484717165
Availability: Not On Our Shelves—Ships in 1-5 Days
Published: Disney-Hyperion - May 2nd, 2017
---
Pages