Escaping Tornado Season: A Story in Poems (Hardcover)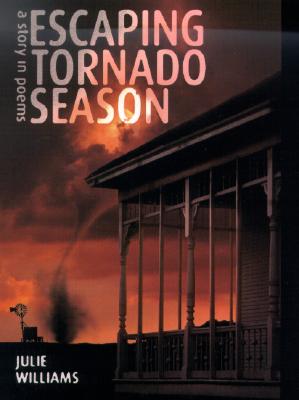 $15.99

Special Order—Subject to Availability
Description
---
Allie Benton's summer at her grandparents' house in Minnesota is the same as it's always been: northern lights and pine trees, family gossip and root beer floats. She's come here to escape Nebraska's tornado season every summer for as long as she can remember. The only difference is, this time no one's coming to take her back to Nebraska when fall rolls around.
With her father dead, her mother run off to heaven knows where, and her twin brother, seven years buried, just a ghost in her memory, Allie settles in with her grandparents for a cold Minnesota winter. But it's hard to fit in at a new school when her family can't afford to buy her a pair of blue jeans. And, in an ethnically divided community, Allie isn't even allowed to choose the friends she wants-handsome Joey Redfern and Lidia, the beautiful Ojibwe girl who calls Allie my niijikwe, "my friend."
With a strong poetic voice, Julie Williams creates snapshots of Allie piecing a new life together- longing for her mother, grieving for her father, remembering her brother, and struggling to do what's right in an imperfect world. As the people around her come and go, Allie starts to get a sense of who she is, and of what she can hold on to despite the changes in her world.
About the Author
---
Julie Williams grew up in Nebraska and Minnesota, and she has been a writer for as long as she can remember. She has also been an actress, a secretary, a seamstress, and has held a whole host of other jobs. She now lives with her husband in Los Angeles, where she recently retired as an adjunct faculty member and assistant director of the Educational Opportunity Program at California State University, Northridge. This is her first novel.