Ladies of Liberty: The Women Who Shaped Our Nation (Hardcover)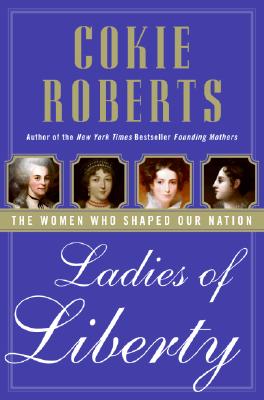 $26.95
Special Order—Subject to Availability
Description
---
In Founding Mothers, Cokie Roberts paid homage to the heroic women whose patriotism and sacrifice helped create a new nation. Now the number one New York Times bestselling author and renowned political commentator—praised in USA Today as a "custodian of time-honored values"—continues the story of early America's influential women with Ladies of Liberty. In her "delightfully intimate and confiding" style (Publishers Weekly), Roberts presents a colorful blend of biographical portraits and behind-the-scenes vignettes chronicling women's public roles and private responsibilities.
Recounted with the insight and humor of an expert storyteller and drawing on personal correspondence, private journals, and other primary sources—many of them previously unpublished—Roberts brings to life the extraordinary accomplishments of women who laid the groundwork for a better society. Almost every quotation here is written by a woman, to a woman, or about a woman. From first ladies to freethinkers, educators to explorers, this exceptional group includes Abigail Adams, Margaret Bayard Smith, Martha Jefferson, Dolley Madison, Elizabeth Monroe, Louisa Catherine Adams, Eliza Hamilton, Theodosia Burr, Rebecca Gratz, Louisa Livingston, Rosalie Calvert, Sacajawea, and others. In a much-needed addition to the shelves of Founding Father literature, Roberts sheds new light on the generation of heroines, reformers, and visionaries who helped shape our nation, giving these ladies of liberty the recognition they so greatly deserve.
About the Author
---
Cokie Roberts is a political commentator for ABC News and NPR. She has won countless awards and in 2008 was named a "Living Legend" by the Library of Congress. She is the author of the New York Times bestsellers We Are Our Mothers' Daughters, Founding Mothers, Ladies of Liberty, and, with her husband, the journalist Steven V. Roberts, From This Day Forward and Our Haggadah.