Ecstatic Nation: Confidence, Crisis, and Compromise, 1848-1877 (American History) (Paperback)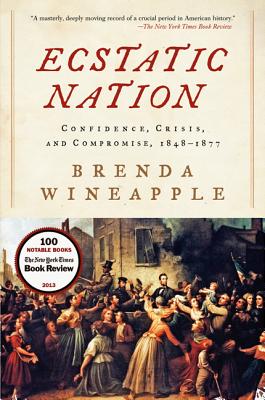 $18.99
Not On Our Shelves—Ships in 1-5 Days
Description
---
A New York Times Notable Book of 2013
A Kirkus Best Book of 2013
A Bookpage Best Book of 2013
Dazzling in scope, Ecstatic Nation illuminates one of the most dramatic and momentous chapters in America's past, when the country dreamed big, craved new lands and new freedom, and was bitterly divided over its great moral wrong: slavery.
 
With a canvas of extraordinary characters, such as P. T. Barnum, Walt Whitman, Frederick Douglass, and L. C. Q. Lamar, Ecstatic Nation brilliantly balances cultural and political history: It's a riveting account of the sectional conflict that preceded the Civil War, and it astutely chronicles the complex aftermath of that war and Reconstruction, including the promise that women would share in a new definition of American citizenship. It takes us from photographic surveys of the Sierra Nevadas to the discovery of gold in the South Dakota hills, and it signals the painful, thrilling birth of modern America.
An epic tale by award-winning author Brenda Wineapple, Ecstatic Nation lyrically and with true originality captures the optimism, the failures, and the tragic exuberance of a renewed Republic.
About the Author
---
Brenda Wineapple is the prizewinning author of several books, including White Heat: The Friendship of Emily Dickinson and Thomas Wentworth Higginson, which was a finalist for the National Book Critics Circle Award and a New York Times Notable Book. She lives in New York City.
Praise For…
---
"This is a marvelous book. With narrative grace and surehanded scholarship, Brenda Wineapple has written a compelling account of an epochal (and too little understood) age. From the death of John Quincy Adams through the Civil War to the tragedy of Reconstruction, Wineapple tells the American story brilliantly."
— Jon Meacham, Pulitzer Prize-winning author of American Lion

"Ecstatic Nation is historical writing of the highest order. . . . With vivid portrayals of the principals of the period, Wineapple sets out the conflicts and causes that shaped the nation. . . . An indispensable guide to the forces that created our own time."
— The Boston Globe

"Wineapple is a beautiful writer, at once lyrical and measured. . . . In providing a sense of the possibilities and tragedies or the era, of its passions and disappointments, Wineapple has given us a memorable book."
— The Christian Science Monitor

"Brenda Wineapple portrays the years of sectional conflict, Civil War, and Reconstruction on a broad canvas that has room for Emily Dickinson and Ulysses S. Grant, Jefferson Davis and Walt Whitman. Blending cultural and political history, Ecstatic Nation offers new perspectives on this transformative era."
— James McPherson, Pulitzer Prize-winning author of Battle Cry of Freedom

"Ecstatic Nation is a brilliant portrait of American society in the mid-nineteenth century. . . . Wineapple's deep research, deft character studies, and rich and nuanced storytelling bring this transformative period alive. A must-read for all lovers of American history."
— Annette Gordon-Reed, Pulitzer Prize-winning author of The Hemingses of Monticello

"There are good storytellers and there are good historians. Brenda Wineapple is both. Beautifully written and grounded in a prodigious mastery of the material, there is no other book like it. Seasoned scholars will be impressed. Interested readers will be riveted."
— James Oakes, author of Freedom National

"A marvelous survey of both familiar and unsung American stories, contextualized and framed within one sweeping canvas. Sure to enrich any reader's understanding of the complicated history of Civil War-era America."
— Publishers Weekly, starred review, "Review of the Week"

"A wonderful, unconventional narrative history, laced with finely-grained sketches of fascinating, conflicted people and harrowing events. Wineapple delivers for even the most avid readers about this era a series of surprises. This is the art of history informed by learning and written with style."
— David Blight, author of American Oracle

"A masterful, sweeping synthesis of a transformative time. . . . In Ecstatic Nation, Wineapple offers a beautifully written and skillfully woven narrative that anyone interested in American history should enjoy."
— BookPage

"A remarkable, mesmerizing book. . . . For many of us, the years before and after the Civil War have seemed hollow and empty, presided over by dreary, cowardly men. No longer, thanks to this book's impeccable scholarship, vivid characterizations, and masterful storytelling."
— Robert K. Massie, Pulitzer Prize-winning author of Catherine the Great

"A splendidly lyrical portrait of the decades that encompass both the Civil War and Reconstruction. . . . Beautifully written, artfully constructed, and passionately argued on every page, Ecstatic Nation stands forth as a model of narrative history."
— Ron Chernow, Pulitzer Prize-winning author of Washington: A Life

"Entertaining."
— Elle

"A rich, beautifully told chronicle of American politics and society between 1848 and 1877."
— Judith Thurman, newyorker.com

"Wineapple's history creatively quavers with the tensions of the transformative times."
— Booklist

"A splendid new history of the Civil War period. . . . Wineapple brings alive the vibrant, imperfect people behind the issues. . . . A masterly, deeply moving record of a crucial period in American history."
— David S. Reynolds, The New York Times Book Review

"Ecstatic Nation powerfully portrays life in the decades surrounding the Civil War, connecting history with modern-day debate. . . . A fresh and riveting account of America at war with itself. . . . Wide in scope and deep in detail."
— The Los Angeles Times

"Wineapple takes up the narrative of 50 years of turbulent American history. . . . A compelling narrative that will enlighten readers new to the material and thoroughly entertain those familiar with it. History on the grand scale, orchestrated by a virtuoso."
— Kirkus (starred review)

"Extremely satisfying. . . . The narrative of Ecstatic Nation, so irresistible and perfectly-orchestrated, catches dozens of wonderful portraits in its net. . . . A triumph."
— Open Letters Monthly

"Ecstatic Nation is varied, original and engaging from cover to cover. All in all, this is a magnificent read for history lovers."
— Daniel Walker Howe, The Wall Street Journal

"The most ambitious and thrilling new book I read this year. . . . A complex, densely peopled and relentlessly gripping political, cultural, and military history of America from the build-up to the Civil War to the crumbling of Reconstruction in its aftermath. . . . Magnificent."
— Geoff Dyer, The Guardian's Best Books of the Year

"For readers seeking a beautifully written, overall survey of mid-19th century America that leaves no major theme or character out, Wineapple's account gets the highest recommendation."
— The Washington Times