What Do Women Want?: Adventures in the Science of Female Desire (Paperback)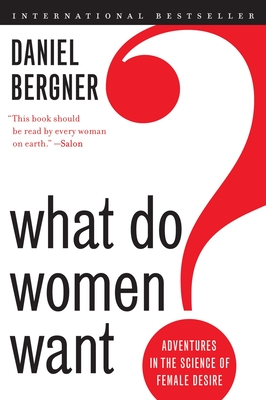 $15.99
Not On Our Shelves—Ships in 1-5 Days
Description
---
Critically acclaimed journalist Daniel Bergner disseminates the latest scientific research and paints an unprecedented portrait of female lust: the triggers, the fantasies, the mind-body connection (and disconnection), the reasons behind the loss of libido, and, most revelatory, that this loss is not inevitable.

Bergner asks: Are women actually the less monogamous gender? Do women really crave intimacy and emotional connection? Are women more disposed to sex with strangers and multiple pairings than either science or society have ever let on? And is "the fairer sex" actually more sexually aggressive and anarchic than men?

While debunking the myths popularized by evolutionary psychology, Bergner also looks at the future of female sexuality. Pharmaceutical companies are pouring billions of dollars to develop a "Viagra" for women. But will it ever be released? Or are we not yet ready for a world in which women can become aroused at the simple popping of a pill?

Insightful and illuminating, What Do Women Want? is a deeper exploration of Daniel Bergner's provocative New York Times Magazine cover story; it will spark dynamic debates and discussions for years to come.
About the Author
---
Daniel Bergner is a contributing writer for the New York Times Magazine and the author of three previous nonfiction books: The Other Side of Desire; In the Land of Magic Soldiers, a Los Angeles Times Best Book of the Year and winner of an Overseas Press Club Award and a Lettre Ulysses Award for the Art of Reportage; and God of the Rodeo, a New York Times Notable Book of the Year. He lives in Brooklyn, New York.
Praise For…
---
"This book should be read by every woman on earth... a must-read for anyone with even a remote erotic interest in the female gender."--Salon.com
— Salon.com

"...Shatters many of our most cherished myths about desire."--The Atlantic
— The Atlantic

"Daniel Bergner has written a keenly intelligent book about a subject that often exceeds our intelligence: What Do Women Want?"
— Gay Talese

Totally engrossing."--New York magazine
— New York magazine

"Fascinating.... Threatens to disrupt all the modern stereotypes of female sexuality."--Slate
— Slate

"At last, we have a new perspective on the wilds of female desire, in rousing tableaux, as women, men, sexologists, bonobos, erotic gurus, and many others provide frank, vivid answers to the question that has haunted [us] for far too long: What do women want? The answer will fascinate all."
— Diane Ackerman, author of A Natural History of Love

"Accessible and informative prose . . . this page-turning book will have readers questioning some of their most ingrained beliefs about women, men, society, and sex."
— Publishers Weekly

"It's everything you wanted to know about sex but didn't know to ask. Daniel Bergner upends long-standing myths about women and sex—everything from nature of attraction and pursuit to prevalence of taboo fantasies to monogamy itself."
— New York Post

"What Do Women Want? adds both steam and explosives into the national conversation-or preoccupation-with what it means to be a woman today."
— Vogue

"Bergner lays out the history of this brainwashing and then debunks it in his entertaining new book, What do Women Want?. He recaps ingenious studies that have plumbed our desires, including those we deny or hide from ourselves."
— Elle