Love Illuminated: Exploring Life's Most Mystifying Subject (With the Help of 50,000 Strangers) (Paperback)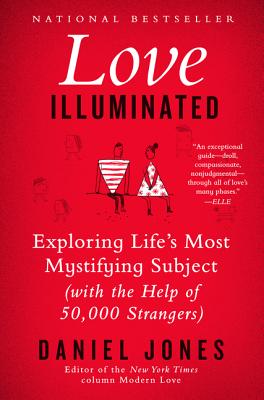 $15.99
Not On Our Shelves—Ships in 1-5 Days
(This book cannot be returned.)
Description
---
From the editor of the New York Times' popular "Modern Love" column—the inspiration for the anthology tv series starring Tina Fey, Andy Garcia, Anne Hathaway, Catherine Keener, Dev Patel, and John Slattery—the story of love from beginning to end (or not).
Love. We want it. We need it. We pay it homage with songs and poems and great works of art. And when we lose it, there's no pain as intense or excruciating. For centuries we've been trying to figure it out, control it, or just get better at it. As the editor of a column about love for the New York Times, Daniel Jones reads thousands of stories about people's intimate relationships—the ones that soar, crash, or hum along, from the bizarre to the supposedly "normal." It's possible that he's read more true love stories than anyone on earth. In Love Illuminated, he teases apart this mystifying emotion that thrills, crushes, and sustains.
Drawing from the 50,000 stories that have crossed his desk over the past decade, Jones explores ten aspects of love—pursuit, destiny, vulnerability, connection, trust, practicality, monotony, infidelity, loyalty, and wisdom—and creates a lively, funny and enlightening journey through this universal human experience that jangles the head and stirs the heart. 
About the Author
---
Daniel Jones has edited the Modern Love column in the Sunday Styles section of the New York Times since its inception in October 2004. His books include two essay anthologies, Modern Love and The Bastard on the Couch, and a novel, After Lucy, which was a finalist for the Barnes & Noble Discover Award. His writing has appeared in the New York Times, Elle, Parade, Real Simple, Redbook, and elsewhere. He lives in Northampton, Massachusetts, with his wife, writer Cathi Hanauer, and their two children.
Praise For…
---
"A provocative, insightful, and deeply humane meditation on 'life's most mystifying subject'... Jones ... proves an exceptional guide -- droll, compassionate, nonjudgmental -- through all of love's many phases."
— Elle