Greek Fiction: Callirhoe, Daphnis and Chloe, Letters of Chion (Paperback)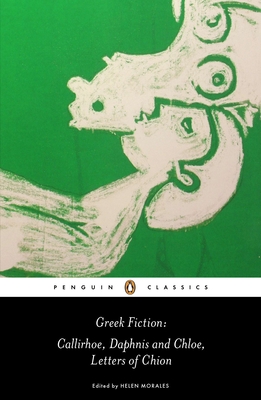 $18.00
In Stock—Click for Locations
Description
---
A collection of Greek fiction written between the first and fourth centuries AD

'Callirhoe' is the stirring tale of star-crossed lovers Chaereas and Callirhoe, torn apart when she is kidnapped and sold as a slave, while 'Daphnis and Chloe' tells of a boy and girl abandoned at birth, who grow up to fall in love and battle pirates. Greek Fiction - also containing 'Letters of Chion', an early thriller about tyranny and a political assassination - is a fascinating glimpse into an alternative view of Ancient Greece's literary culture.

For more than seventy years, Penguin has been the leading publisher of classic literature in the English-speaking world. With more than 1,700 titles, Penguin Classics represents a global bookshelf of the best works throughout history and across genres and disciplines. Readers trust the series to provide authoritative texts enhanced by introductions and notes by distinguished scholars and contemporary authors, as well as up-to-date translations by award-winning translators.
About the Author
---
CHARITON is assumed to be the earliest of the Greek novelists and probably wrote Callirhoe in the first or second century AD.

LONGUS, the author of Dapnis and Chloe, is usually dated to the second or third centuries AD.

HELEN MORALES is author of Mythology: A Very Short Introduction (2007) and co-editor of the Classics journal, Ramus. She currently teaches at the University of California, Santa Barbara.

ROSANNA OMITOWOJU is Fellow of Kings College, Cambridge and author of Rape and the Politics of Consent in Classical Athens (2002).

JOHN PENWILL taught at La Trobe University for 22 years prior to his retirement. He has published articles on the Greek epistolary novel and other works of ancient fiction, notably Apuleius' Golden Ass.

PHIROZE VASUNIA is the author of The Gift of the Nile: Hellenizing Egypt from Aeschylus to Alexander (2001) and the co-editor of Classics and National Cultures (2010), and India, Greece, and Rome, 1757 to 2007 (2010).