The Radical's Journey: How German Neo-Nazis Voyaged to the Edge and Back (Hardcover)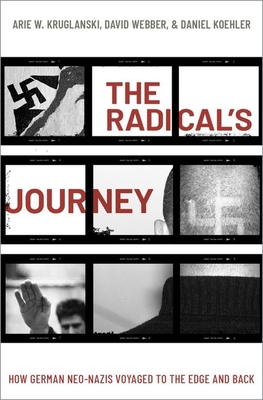 $35.00
Special Order—Subject to Availability
Description
---
This volume offers a crucial examination of right-wing extremism, supported by detailed empirical analyses of right-wing militants' experiences within and outside their organizations. The authors delve deeply into the motivations that prompt initial membership in these groups, the elements
that make membership appealing, and the factors that ultimately cause members to leave. Interpreting the present empirical data within their psychological theory of radicalization, the authors determine the commonalities and differences between instances of radicalization and derive policy-relevant
implications to combat right-wing extremism. In a turbulent global environment where this strain of extremist ideology has gained more mainstream popularity, this book is a critical and timely addition to scholarship on radicalization by leading experts in the field.

About the Author
---
Arie W. Kruglanski is Distinguished University Professor of Psychology at the University of Maryland. He is the recipient of several awards including the National Institute of Mental Health Research Scientist Award, the Distinguished Scientific Contribution Award from the Society of ExperimentalSocial Psychology, and the Donald Campbell Award for Outstanding Contributions to Social Psychology from the Society for Personality and Social Psychology. He is Fellow of the American Psychological Association and the American Psychological Society, and was a co-founder and presently is a seniorinvestigator at the National Center for the Study of Terrorism and the Response to Terrorism, START. His research interests are in the domains of human judgment and decision making, the motivation-cognition interface, group and intergroup processes, the psychology of human goals, and the socialpsychological aspects of terrorism. David Webber is Assistant Professor at the L. Douglas Wilder School of Government and Public Affairs at Virginia Commonwealth University. His research examines the social psychological factors involved in the radicalization and deradicalization processes, and he has worked in the field on CVEprogram assessment, and the training of CVE practitioners within prisons. Daniel Koehler is co-founder of the first peer reviewed open access journal on deradicalization, JD Journal for Deradicalization, which he created together with the German Institute on Radicalization and De-Radicalization Studies (GIRDS). His work on terrorism, radicalization, and deradicalizationis regularly covered by leading international news outlets such as the New York Times, the Wall Street Journal, Christian Science Monitor, National Public Radio, Rolling Stone Magazine, the Associated Press, and the London Sunday Times. He is also a Fellow of George Washington University's Programon Extremism at the Center for Cyber and Homeland Security and a member of the Editorial Board of the International Centre for Counter-Terrorism in The Hague.