Pathways of Desire: The Sexual Migration of Mexican Gay Men (Paperback)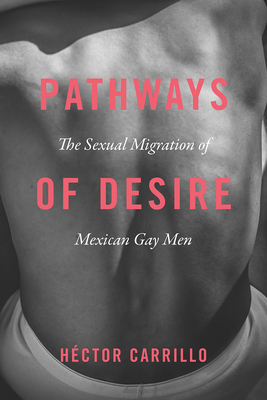 $35.00
Not On Our Shelves—Ships in 1-5 Days
Description
---
With Pathways of Desire, Héctor Carrillo brings us into the lives of Mexican gay men who have left their home country to pursue greater sexual autonomy and sexual freedom in the United States. The groundbreaking ethnographic study brings our attention to the full arc of these men's migration experiences, from their upbringing in Mexican cities and towns, to their cross-border journeys, to their incorporation into urban gay communities in American cities, and their sexual and romantic relationships with American men. These men's diverse and fascinating stories demonstrate the intertwining of sexual, economic, and familial motivations for migration.

Further, Carrillo shows that sexual globalization must be regarded as a bidirectional, albeit uneven, process of exchange between countries in the global north and the global south. With this approach, Carrillo challenges the view that gay men from countries like Mexico would logically want to migrate to a "more sexually enlightened" country like the United States—a partial and limited understanding, given the dynamic character of sexuality in countries such as Mexico, which are becoming more accepting of sexual diversity. Pathways of Desire also provides a helpful analytical framework for the simultaneous consideration of structural and cultural factors in social scientific studies of sexuality.  Carrillo explains the patterns of cross-cultural interaction that sexual migration generates and—at the most practical level—shows how the intricacies of cross-cultural sexual and romantic relations may affect the sexual health and HIV risk of transnational immigrant populations.
About the Author
---
Héctor Carrillo is professor of sociology and gender and sexuality studies at Northwestern University. He is the author of The Night Is Young: Sexuality in Mexico in the Time of AIDS, also published by the University of Chicago Press.
Praise For…
---
"Pathways of Desire is an exceptional interdisciplinary study. By exploring the lives of men both before and after migration, Carrillo highlights how major shifts in social contexts due to transnational migration have profound impacts on the men's sexualities, illuminating changes in the lived experience of sexuality in a novel way. Most importantly, Carrillo compares the experience of Mexican gay immigrant men with those of Latino gay men born and raised in the United States, examining the sexual and relational dynamics from the viewpoints of both immigrant and domestic men. This groundbreaking book is a remarkable accomplishment."
— Richard Parker, director, Center for the Study of Culture, Politics and Health, Columbia University

"This magisterial work by Héctor Carrillo, the leading scholar of Mexican gay immigrant men, weaves together stories of sex, sexuality, and romance on both sides of the Mexican border. Carrillo offers us a polished theoretical interpretation of the issues, institutions, and aspirations affecting Mexican gay men and everyone in their lives. Pathways of Desire will become a touchstone study for a wide range of fields, including public health, LGBT social analysis, public policy, globalization, and Mexican migration studies. An extraordinary read and a major advance in our understanding."
— Matthew Gutmann, Brown University

"By examining lives both before and after migration Carrillo is able to show both the realities of homophobia and restricted freedom as well as a thriving and growing gay culture in Mexico. He shows that migration scholars should incorporate sexuality into the study of immigration, both for the role it plays in decisions about migration and for its role in shaping assimilation into American society. Pathways of Desire is beautifully written and tells the powerful stories of these migrants. Theoretically innovative and methodologically sophisticated, Pathways of Desire is a tour de force."
— Mary C. Waters, Harvard University