The Poison Trials: Wonder Drugs, Experiment, and the Battle for Authority in Renaissance Science (Synthesis) (Paperback)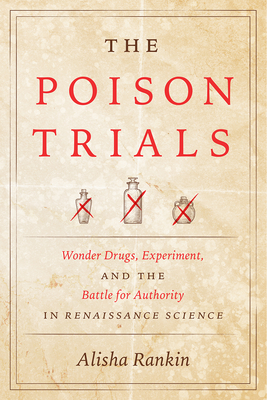 $35.00

Not On Our Shelves—Ships in 1-5 Days
Description
---
In 1524, Pope Clement VII gave two condemned criminals to his physician to test a promising new antidote. After each convict ate a marzipan cake poisoned with deadly aconite, one of them received the antidote, and lived—the other died in agony. In sixteenth-century Europe, this and more than a dozen other accounts of poison trials were committed to writing. Alisha Rankin tells their little-known story.

At a time when poison was widely feared, the urgent need for effective cures provoked intense excitement about new drugs. As doctors created, performed, and evaluated poison trials, they devoted careful attention to method, wrote detailed experimental reports, and engaged with the problem of using human subjects for fatal tests. In reconstructing this history, Rankin reveals how the antidote trials generated extensive engagement with "experimental thinking" long before the great experimental boom of the seventeenth century and investigates how competition with lower-class healers spurred on this trend.

The Poison Trials sheds welcome and timely light on the intertwined nature of medical innovations, professional rivalries, and political power.
About the Author
---
Alisha Rankin is associate professor of history at Tufts University. She is coeditor, with Elaine Leong, of Secrets and Knowledge in Medicine and Science, 1500–1800 and author of Panaceia's Daughters: Noblewomen as Healers in Early Modern Germany, also published by the University of Chicago Press, which won the 2014 Gerald Strauss Prize for Reformation History.
Praise For…
---
"Rankin describes the cruel human experiments in grisly detail in her book. . . . Her anecdotes are riveting. . . . But the book's fascination lies in its exposure of the early attempts at an approach to medicine that we would now call scientific—along with the revelation of how quickly and seemingly instinctively these attempts became enmeshed in a primitive version of what we would now call medical ethics. These tensions, like contagions, have always been with us."
— Nature

"[Rankin] brings us her half-a-decade's worth of research in the disturbing monograph The Poison Trials. . . . Rankin goes to lengths to not just tell the stories, she also analyses them to reconstruct the journey of moving from coercion to informed consent in clinical trials. With this, Rankin succeeds in uncovering a part of history most readers might be unfamiliar with. . . . I have to give a standing ovation for the work that has gone into the book."
— Chemistry World

"This is an exciting and original book that examines the role of poison trials in early modern medicine and science and brings up important issues about the role of experiential knowledge, the ethical and legal implications of medical testing, the role of courtly patronage in the shaping of scientific practice, and the culture of exotica in sixteenth-century Europe. Rich and dense, it deals with important issues, provides strong and unexpected arguments, and presents a fascinating narrative that will captivate readers."
— Daniel Margócsy, author of Commercial Visions: Science, Trade, and Visual Culture in the Dutch Golden Age

"The Poison Trials is a deeply researched and brilliantly constructed history of early modern tests of antidotes against poison. But, far more than that, it is also a cultural history of poison in the early modern era that targets experimental tests, raising the ingenious argument that the poison trials provided a kind of medical model for experiments in a time when experimental science was emerging. Rankin tells the story of the battle of physicians against empirics in a fiercely competitive marketplace, with physicians asserting their power and priority against the ragged street-corner 'doctors' who hawked their antidotes and panaceas, and of wary rulers fearful of being poisoned by enemies. This is rich cultural history and Rankin is an excellent guide through the thickets of the archival and printed sources detailing these sometimes bizarre events. The Poison Trials makes a major contribution to the history of early modern science and culture, and casts light on ethical concerns that still haunt us."
— William Eamon, New Mexico State University