The Anatomy Bible: The Incredible Biology of You (Paperback)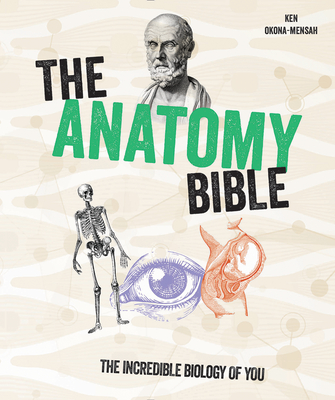 $19.95

In Stock—Click for Locations
Description
---
The 15th title in Firefly Books' bestselling and renowned Subject Bible series covering all aspects of human life.
Praise for the series:
Don't let the format fool you; the concepts are quite sophisticated, so many entries are brief but dense. Good for answering news-related ready reference questions and, despite its small size, suitable for circulating collections. --Booklist
Like the previous titles in this series, The Anatomy Bible delivers a concise and entertaining package of authoritative information on a fundamental aspect of human existence; in this case, the bones and muscles and organs that make up human anatomy, the one common element of all human life.
The 13 illustrated chapters cover:
The Fundamentals
-- The discovery and application of knowledge of human anatomy; the language of anatomy
Bit by Bit
-- Organization of your body from cellular to chromosomal, to tissues and organs
The Ultimate Packaging Material
-- The 3 layers of skin that protect us; fat, hair, glands and nails
Move Your Body
-- The musculoskeletal system, bone; tendons, ligaments and muscles; cartilage and bone growth; aging
A Blood Red Superhighway
-- The heart, arteries, capillaries, veins, oxygen
The Security Force
-- Immunity and wound repair; lymphocytes; hypersensitivity
A Paramount Exchange
-- Respiration and lungs
The Hub
-- The nervous system; neurons, axons, the brain parts, cortices, the senses
Just A Messenger
-- Chemicals and glands
GIT
-- Upper and lower gastrointestinal tract and its parts, from mouth to throat to stomach to lower intestines; liver and gallbladder
Your Waterway Networks
-- The urinary system; kidneys, bladder, ureter and urethra; blood filtering; blood pressure
Making Babies
-- Structure and function of the male and female reproductive systems; genetics and inherited characteristics
Looking Ahead
-- 21st-century anatomy.
The other titles in this wide-ranging series specialize in topics of interest for everyone and others that are more specialized, but we all have a body and, for the most part, they all work the same way. The Anatomy Bible is a wonderful reference to its secrets and an ideal selection for all readers.
About the Author
---
Ken Okona-Mensah is a freelance science writer who has over 16 years' experience working in academia and writing about health-based topics. With a background in pharmacology and toxicology, research and science communication he previously worked as a scientific writer for Imperial College London where he produced technical and lay reviews for scientific advisory committees of Public Health England.