Promised Land: Thirteen Books That Changed America (Paperback)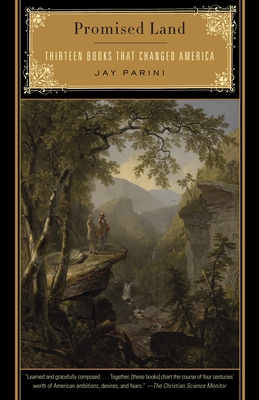 $16.95
Special Order—Subject to Availability
Description
---
In this lively exploration of America's intellectual heritage, acclaimed poet, novelist, and critic Jay Parini celebrates the life and times of thirteen books that helped shape the American psyche.
 
Moving nimbly between the great watersheds in American letters—including Walden, Huckleberry Finn, The Souls of Black Folk, and On the Road—Parini demonstrates how these books entered American life and altered how we think and act in the world. An immensely readable and vibrant work of cultural history, Promised Land exposes the rich literary foundation of our culture, and is sure to appeal to all book lovers and students of the American character alike.
About the Author
---
Jay Parini, a poet and novelist, teaches at Middlebury College in Vermont. His novels include The Apprentice Lover, Benjamin's Crossing, and The Last Station (now a major motion picture). His fifth volume of poetry was The Art of Subtraction: New and Selected Poems (2005). He has written biographies of John Steinbeck, Robert Frost, and William Faulkner, in addition to The Art of Teaching (2005) and Why Poetry Matters (2008). His reviews and essays appear frequently in major periodicals, including The Chronicle of Higher Education and The Guardian. He lives in Vermont.
Praise For…
---
"Learned and gracefully composed. . . . Together, [these books] chart the course of four centuries' worth of American ambitions, desires, and fears."
—The Christian Science Monitor
 
"Incisive. . . . Erudite. . . . A welcome beacon."
—San Francisco Chronicle
 
"The work of a mature critic at the height of his powers. Parini conveys a vivid sense of who we have been, who we are and whom we might want to become as a nation."
—The Dallas Morning News
 
"Surprising. . . . Thoughtful. . . . Convincing. . . . Readers will benefit from dipping into Parini's book and reacquainting themselves with the nation's bedrock myths and stories."
—Maureen Corrigan, NPR's Fresh Air
 
"Eclectic. . . . Illuminating. . . . [Parini] tells us we're more literary than we might think, that in fact our culture is in part the product of literature that has become so embedded as to be almost invisible."
—The Seattle Times
 
"Anyone who has ever wondered if books can make a difference will be fascinated and encouraged by Promised Land, Jay Parini's incisive reading of thirteen books that changed our country forever and helped create the nation in which we live today."
—Francine Prose
 
"Parini's book seeks to restore our faith in the American character. . . . He reminds us that we too are part of a long legacy of radical thinkers and doers. We are of a lineage of everyday revolutionaries who constantly challenge the status quo, and are thus called to continue our quest to animate our ideas into a national reality."
—The Philadelphia Inquirer
 
"Delightful. . . . Well-rounded. . . . Parini has a special gift to somehow locate common strands in the disparate works that make this collection."
—Chicago Sun-Times
 
"This is the kind of book that is fun to ponder, for what it says about us, as Americans, and the sort of question it implicitly provokes each of us to ask: What books helped to shape our own lives and our own historical moment?"
—The San Diego Union-Tribune
 
"Very smart."
—Chicago Tribune
 
"Like watching a time-lapse film of cultural evolution—with the perennial motifs of American life changing colors and sprouting the odd appendage over the course of two centuries."
—The Wall Street Journal
 
"Parini distills books to their very essence . . . and he expands the way their ideas have rippled outward in time. . . . Promised Land is a provocative, perfect topic for reading groups, as well as a guide to additional reading."
—The Times-Picayune (New Orleans)
 
"Parini is a congenial companion through some touchstone books. . . . Each chapter walks the reader through the book in question and offers a patient, informed discussion of its author, historical context, and repercussions. . . . A tour through Parini's 13 books is thus an examination of the preoccupations and myths that constitute American identity."
—The Chronicle of Higher Education
 
"An effective, economical way to survey American history and culture. . . . Would make an excellent starting point for a college course."
—Los Angeles Times
 
"Parini is a literary Renaissance man. . . . What makes his writing so engaging is the learning, critical acumen and insight he brings to bear on each book."
—Guelph Mercury (Ontario)
 
"Stimulating. . . . Robust and resonant. . . . A mind-expanding book of books guaranteed to provoke discussion and fuel reading groups."
—Booklist
 
"Parini is known for tackling big subjects. . . . Readable, insightful, and provocative, Promised Land is a good companion to our cultural history, beckoning us to read or reread America's watershed texts . . . through our current political, cultural and environmental lenses. Most of all, it renews our awareness of the power and value of words. . . . Engaging and refreshing."
—The Lexington Herald-Leader (Kentucky)
 
"With these 13 remarkable selections, Parini has provided a fantastic shortcut to understanding who we are, where we come from and who we believe we are."
—Lebanon Daily News (Pennsylvania)
 
"Reading Jay Parini's wonderful new book, Promised Land, I was reminded of Gore Vidal's observation that we live in the United States of Amnesia. Here is the sovereign cure for our amnesia, the story of our enlightenment and transcendentalist roots, told through the texts of our most life-changing books. Read Promised Land and remember that the greatness of America comes from our enlightenment ideals—often more honored in the breach than the observance. A vital text for the renewal of our country."
—Erica Jong