White Heat: The Friendship of Emily Dickinson and Thomas Wentworth Higginson (Paperback)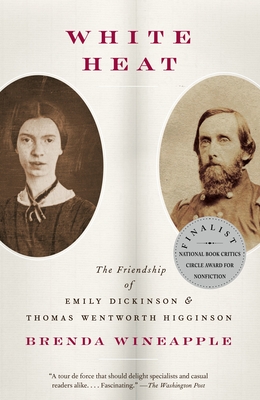 $18.00
Special Order—Subject to Availability
Description
---
White Heat is the first book to portray the remarkable relationship between America's most beloved poet and the fiery abolitionist who first brought her work to the public. 
As the Civil War raged, an unlikely friendship was born between the reclusive poet Emily Dickinson and Thomas Wentworth Higginson, a literary figure who ran guns to Kansas and commanded the first Union regiment of black soldiers. When Dickinson sent Higginson four of her poems he realized he had encountered a wholly original genius; their intense correspondence continued for the next quarter century. In White Heat Brenda Wineapple tells an extraordinary story about poetry, politics, and love, one that sheds new light on her subjects and on the roiling America they shared.
 
 
About the Author
---
Brenda Wineapple is the author of Genet: A Biography of Janet Flanner; Sister Brother: Gertrude and Leo Stein; and Hawthorne: A Life, winner of the Ambassador Award of the English-Speaking Union for Best Biography of 2003. Her essays and reviews appear in many publications, among them The New York Times Book Review and The Nation. She has been the recipient of grants from the National Endowment for the Arts and the Guggenheim Foundation. She lives in New York City and teaches creative writing at Columbia University and The New School.
Praise For…
---
National Book Critics Circle Award Finalist


A New York Times Notable Book of the Year

 

A Best Book of the Year in The Washington Post, The Economist, The Christian Science Monitor, The Providence Journal, and The Kansas City Star

Winner of the Arts Club of Washington National Award for Arts Writing

 

"A tour de force that should delight specialists and casual readers alike. . . . Fascinating." —Washington Post

 

"Written with a dry heat that does justice to its impassioned protagonists. . . . Wineapple [has] a feisty prose style and a relish for unsettling received ideas." —The New Yorker

 

"Wineapple achieves what the best literary biography should: a portrait which provides close-up moments of tangible intimacy while allowing the subject to remain ultimately mysterious." —The Economist

 

"One of the most astonishing books about poetry I have ever read. It causes us to see Emily Dickinson, perhaps for the first time, as an actual human being of a particular time and place, rather than as a timeless, ghostly, and ethereal instrument of first-rank poetic genius. . . . Irresistibly entertaining." —Franz Wright

 

"A wonderfully evocative double portrait." —Joyce Carol Oates, New York Review of Books

 

"One of the best books of 2008. . . . Wineapple's superb biography of the friendship between Emily Dickinson and her editor, Thomas Wentworth Higginson, complicates our understanding of the Belle of Amherst." —Maureen Corrigan, NPR

 

"A dual biography of astonishing depth and grace." —The Boston Globe

 

"A brilliant account of one of the oddest literary friendships in American history." —Foreign Affairs

 

"A prismatic double portrait. Ms. Wineapple specializes in imparting flesh-and-blood substance and narrative thrust to literary biographies." —The Wall Street Journal

 

 "Intelligent, delightful. . . . A rich and satisfying journey." —Christian Science Monitor

 

"A model biography cum literary study set against an inexhaustibly interesting historical backdrop." —Miami Herald

 

"Careful research and a lively prose style. . . . A double delight." —St. Louis Post-Dispatch

 

"In her trenchant, memorable narrative of Dickinson's quarter-century entanglement with Higginson, Wineapple takes us into the "white heat" they generated together, a synergy that made their cold New England souls immeasurably warmer." —Times Literary Supplement (London)

 

"This double biography reveals a captivating Dickinson." —Time

 

"Brenda Wineapple, a superb literary critic, has a historian's soul. In White Heat, she beautifully describes the quiet drama and elusive tempos of one of the most improbable and fateful authorial friendships in all of American writing. Few contemporary interpreters, if any, could have understood the story in all its richness as Wineapple has—and then related it with such grace as well as authority." —Sean Wilentz

 

"Wineapple has done an admirable and eloquent job of unraveling this intriguing chapter in Emily Dickinson's story, but always with respect for the mystery of compatibility at its core. No book I know brings us deeper into the inner chambers of this poet's private life." —Billy Collins

 

"[This] is one of the strangest stories in American literary history—poignant, exasperating, moving—and Wineapple tells it with a rare brio and authority. White Heat is biography at its very best. It brings these two to life more exactly, more sympathetically, more vividly than ever before. A triumph!" —J. D. McClatchy