Justin Case: School, Drool, and Other Daily Disasters (Justin Case Series #1) (Hardcover)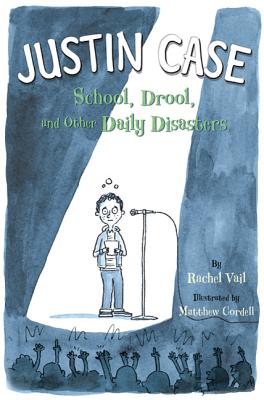 $16.99
Special Order—Subject to Availability
Other Books in Series
This is book number 1 in the Justin Case Series series.
Description
---
It's the start of the school year, and nothing feels right to Justin. He didn't get the teacher he wanted, he's not in the same class as his best friend, and his little sister, Elizabeth, is starting kindergarten at his school. Elizabeth doesn't seem nervous at all. Justin is very nervous about third grade. And to top it off, he's lost his favorite stuffed animal, but he can't tell anyone, because technically he's too old to still have stuffed animals. Right?
Here is third grade in all its complicated glory—the friendships, the fears, and the advanced math. Acclaimed author Rachel Vail captures third grade with a perfect pitch, and Caldecott award-winning illustrator Matthew Cordell's line art is both humorous and touching. As Justin bravely tries to step out of his shell, he will step into readers' hearts.
Justin Case is a 2011 Bank Street - Best Children's Book of the Year.
About the Author
---
Rachel Vail is the author of children's books including Justin Case, Sometimes I'm Bombaloo, and Righty and Lefty. She is also the author of several books for teens and middle grade readers, including If We Kiss, You Maybe, Gorgeous, Wonder, and Never Mind, which she wrote with Avi. Vail was born in New York City and grew up in New Rochelle, NY, just down the street from her future husband, though she didn't know that until much later. She attended Georgetown University, where she earned her B.A. in English and Theater. She lives in New York City with her husband and two sons.

Matthew Cordell is the author and illustrator of Caldecott award winner Wolf in the Snow, Trouble Gum, Another Brother, hello! hello!, and Wish. He has illustrated the books of renowned authors including Philip Stead (Special Delivery), Rachel Vail (the Justin Case series), and Gail Carson Levine (Forgive Me, I Meant To Do It). He lives outside of Chicago with his wife, the novelist Julie Halpern, and their two children.
Praise For…
---
"This honest and heartfelt look at elementary school is illustrated with occasional doodles that perfectly suit the book and audience." —Kidsville News
"Justin Case, the new novel by Rachel Vail, might well be subtitled the wit and wisdom of a third-grade worrywart. By turns droll, sardonic, ironic, and even sophisticated, it chronicles the daily tribulations of life in the third-grade as told by its eponymous hero, who in the course of his school year discovers there is no heroism unless there is fear. And fear Justin has a-plenty, be it of his new dog Qwerty, his new teacher, sports, math, friends, jiggly Jell-O--or whatever--a lot comes his way, real and imagined. The writing is sharp, unpredictably clever, and establishes third-grade as a mine-field of the absurd--which is to say, real life." —Avi, Newbery Medalist
"Vail employs easy, direct language in a rhythm and syntax that captures the essence of a charming, lovable and very believable boy. Readers transitioning to longer fiction will groan, sympathize and laugh out loud in delight. Absolutely marvelous." —Kirkus Reviews, starred review