Nobody's Family Is Going to Change (Paperback)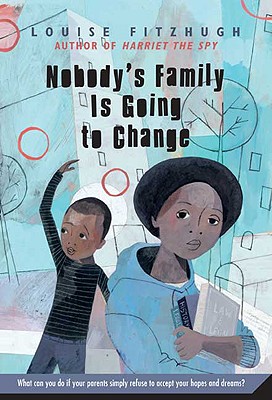 $8.99

Special Order—Subject to Availability
Description
---
"When somebody has got what Willie here has got, they just know where they're going and there's just no point in trying to stop them."
Willie, seven years old, can't stop dreaming of the day he will dance on Broadway. Emma, his older sister, is determined that someday she will address a courtroom. Is there something wrong with them? Or is there something wrong with their parents, whose dreams for their children have little to do with what the children want? When Emma sets out to find a way to convince her parents to let her live her life her way, she doesn't care what happens to Willie. But she soon learns that all kids need a voice, and she may be able to find a way to help them get one.
About the Author
---
In the world of children's literature, Louise Fitzhugh's "Harriet the Spy" and "The Long Secret" are widely recognized as epoch-making. They have been received by young readers, year after year, with excitement and love. This Fitzhugh novel shares the vigorous sense of comedy and the unflinching fidelity to the real world that distinguished her earlier books. Many readers will feel, however, that "Nobody's Family Is Going to Change" is even finer than its predecessors.
Praise For…
---
"At 11, Emma has a mind like a steel trap and her heart set on becoming a lawyer, much to the disgust of Mr. Sheridan, himself an attorney, who favors Willie [her brother] for such a profession. But Willie yearns to dance . . . The clashes begin and grow in intensity until an Armageddon of sorts [occurs] between Willie, Emma, and their father."—Booklist "This book encompasses black rights, women's rights, children's rights, interfamily relations as well as obesity. It sounds like heavy going, but Louise Fitzhugh has put it all into a plot that starts off in high gear and never lets up until you reach the end. Her characters absorb you. It's a masterful job."—The Boston Globe
"The dialogue is flawless, the antics are riotous, it's funny, it's sad, it makes you mad, it makes you laugh, it makes you think."—West Coast Review of Books