A Witch in Time (Paperback)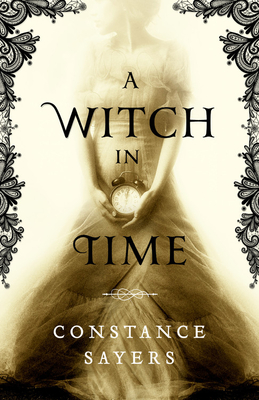 $16.99
In Stock—Click for Locations
Description
---
A witch is cursed to relive a doomed love affair through many lifetimes, as both troubled muse and frustrated artist, in this haunting debut novel.
Helen Lambert has lived several lives-a young piano virtuoso in 1890s Paris, an actress in 1930's Hollywood, a rock star in 1970s Los Angeles -- only she doesn't know it. Until she meets a strange man who claims he's watched over her for centuries, bound to her from the beginning.
At first, Helen doesn't believe him. Her life is as normal as any other modern career woman's. Then she begins having vivid dreams about ill-fated love and lives cut short.
Caught in a curse, Helen will be forced to relive the same tragic events that ruined her previous lives. But with each rebirth, she's developed uncanny powers. And as the most powerful version of herself, Helen must find a way to break the curse before her time runs out.
A Witch in Time is a bewitching tale of passion, reincarnation and magic perfect for fans of A Secret History of Witches and Outlander.
About the Author
---
Constance Sayers received her MA in English from George Mason University and her BA in writing from the University of Pittsburgh. She is a media executive at Atlantic Media. She has been twice named to Folio's list of "Top 100 Media People in America" and was included in their list of "Top Women in Media." She is the co-founder of the Thoughtful Dog literary magazine and lives in Kensington, Maryland.
Praise For…
---
"A captivating tapestry of a tale,
A Witch in Time
weaves together the supernatural, historical fiction, and a humorous present day heroine, while traveling the macabre brambles of a dark curse-through lifetimes-with a compass to the heart."—
Gwendolyn Womack, bestselling author of The Fortune Teller & The Time Collector
"Fresh and original... a narrative rich in historical detail, brightened by flashes of humor, and filled with colorful characters and fascinating settings. A most rewarding read!"
—
Louisa Morgan, author of A Secret History of Witches
"A sweeping story of magical, star-crossed love, as glamorous as it is romantic. Prepare to be dazzled."
—
Alma Katsu, author of The Hunger
"Sayers cleverly twists the loves-lost-through-time motif....A smart, engrossing debut from a writer to watch."
—
Kirkus
"I fell in love with Sayers' perfectly plotted debut. There's history and romance, humor and heartache, Paris and Hollywood, and a protagonist who's bewitching no matter the decade. It's time travel with a fresh twist!"
—
Karin Tanabe, author of A Hundred Suns
"Fans of Deborah Harkness will devour this page-turning tale of love, reincarnation, and dark magic. A highly unique and enjoyable read!"
—
Hester Fox, author of The Witch of Willow Hall
"Incredibly engrossing and decadent in all the best ways,
A Witch in Time
is a sumptuous story of love and loss that's perfect for fans of historical fiction with a touch of fantasy."—
Hypable
"With lush historical details and a wicked sense of humor,
A Witch in Time
fully immerses the reader in the story of Helen and her fated demon, unpacked like nesting dolls across time and lives, fortune and chance. From Belle Epoque France to modern-day D.C., from worlds pastoral, decadent, flashy to commercial, Sayers weaves a spell of love, lust and magic to create a page-turner like no other. All the thrill of a
Discovery of Witches
, with all the mystery and epic romance of Richard Matheson's classic
Somewhere in Time
."—
Steph Post, author of Miraculum
"Sayers traverses time periods effortlessly with lush, graceful descriptions....This spiraling narrative will appeal to fans of historical fiction and complicated love stories ."
—
Publishers Weekly