Comparative Sociology of Examinations (Paperback)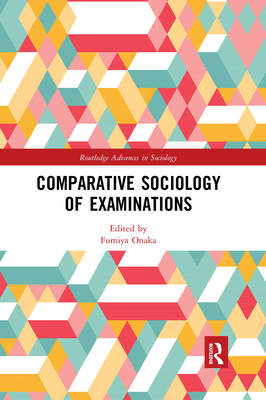 $48.95
Not On Our Shelves—Ships in 1-5 Days
(This book cannot be returned.)
Description
---
Contemporary societies are constructed, constricted, and constrained by various series of examinations. Governments of both Western and non-Western countries tend to conduct detailed, multi-layered and continuous systems of tests or examinations. International tests, such as PISA and TIMSS, have also been introduced to compare the relative performances of learners within diverse educational institutions across different countries. Examinations therefore provide a methodological pivot for comparing a range of societies. They enable us to contrast the West and the East; the North and the South; tribal and mass society; ancient and postmodern civilization; and so on.
Comparing parallel societies from across Asia, the Middle East, Europe, and North America, this book proposes fundamental transitions in sociological research from system to process and from communication to composition through intensive studies on examinations. It uses ethnographies, interviews, questionnaires, documents, statistics, and big-data analyses to make comparisons on broad scales of time and space. In so doing, it suggests hypotheses encompassing different kinds of societies in human history, including those in the Axial Age and the Modern Ages.
About the Author
---
Fumiya Onaka is a Professor of Comparative Sociology at Japan Women's University. He received his PhD in sociology from The University of Tokyo in 2007. His research focuses on examinations; careers; disabilities; and their relations with local cultures and processes, facilitated by the integrated use of ethnographies, interviews, observations, questionnaires, and periodicals. His primary field of study is Thailand, while secondary fields are Japan, South Korea, and the United Kingdom. This allows for "thick comparisons" between several areas in these countries. He is the executive secretary of ISA RC20 (Comparative Sociology) and a board member of ISA RC33 (Logic and Methodology in Sociology) and ISA RC56 (Historical Sociology).