Listen, Little Man! (Paperback)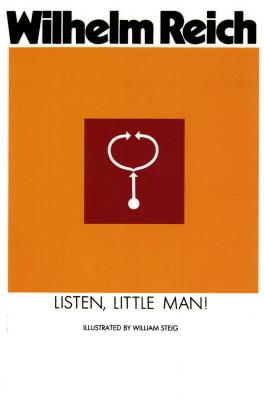 $16.00
Not On Our Shelves—Ships in 1-5 Days
Description
---
Listen, Little Man! is a great physician's quiet talk to each one of us, the average human being, the Little Man. Written in 1946 in answer to the gossip and defamation that plagued his remarkable career, it tells how Reich watched, at first naively, then with amazement, and finally with horror, at what the Little Man does to himself; how he suffers and rebels; how he esteems his enemies and murders his friends; how, wherever he gains power as a "representative of the people," he misuses this power and makes it crueler than the power it has supplanted.

Reich has us to look honestly at ourselves and to assume responsibility for our lives and for the great untapped potential that lies in the depth of human nature.
About the Author
---
Wilhelm Reich, a native of Austria, was born in 1897. His many works include Listen, Little Man!, Character Analysis, and The Mass Psychology of Fascism. He died in 1957.

William Steig (1907-2003) was a cartoonist, illustrator and author of award-winning books for children, including Shrek!, on which the DreamWorks movies are based. Steig was born in New York City. Every member of his family was involved in the arts, and so it was no surprise when he decided to become an artist. He attended City College and the National Academy of Design. In 1930, Steig's work began appearing in The New Yorker, where his drawings have been a popular fixture ever since. He published his first children's book, Roland the Minstrel Pig, in 1968. In 1970, Steig received the Caldecott Medal for Sylvester and the Magic Pebble. His books for children also include Dominic; The Real Thief; The Amazing Bone, a Caldecott Honor Book; Amos & Boris, a National Book Award finalist; and Abel's Island and Doctor De Soto, both Newbery Honor Books. Steig's books have also received the Christopher Award, the Irma Simonton Black Award, the William Allen White Children's Book Award, and the American Book Award. His European awards include the Premio di Letteratura per l'infanzia (Italy), the Silver Pencil Award (the Netherlands), and the Prix de la Fondation de France. On the basis of his entire body of work, Steig was selected as the 1982 U.S. candidate for the Hans Christian Andersen Medal for Illustration and subsequently as the 1988 U.S. candidate for Writing. Steig also published thirteen collections of drawings for adults, beginning with About People in 1939, and including The Lonely Ones, Male/Female, The Agony in the Kindergarten, and Our Miserable Life. He died in Boston at the age of 95.

Ralph Manheim (b. New York, 1907) was an American translator of German and French literature. His translating career began with a translation of Mein Kempf in which Manheim set out to reproduce Hitler's idiosyncratic, often grammatically aberrant style. In collaboration with John Willett, Manheim translated the works of Bertolt Brecht. The Pen/Ralph Manheim Medal for translation, inaugurated in his name, is a major lifetime achievement award in the field of translation. He himself won its predecessor, the PEN translation prize, in 1964. Manheim died in Cambridge in 1992. He was 85.