Promised Land: Thirteen Books That Changed America (Hardcover)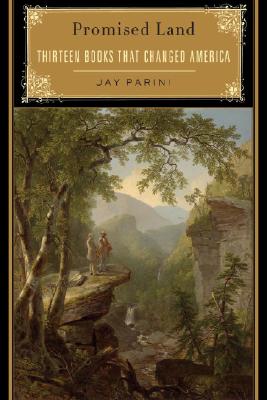 $24.95
Special Order—Subject to Availability
Description
---
"These thirteen books must be seen as representative, not definitive, works. They are nodal points, places where vast areas of thought and feeling gathered and dispersed, creating a nation as various and vibrant as the United States, which must be considered one of the most successful nation-states in modern history, and a republic built firmly on ideas, which are contained in its major texts. Where we have been must, of course, determine where we are going. My hope is that this book helps to show us where we have been and engenders a lively conversation about our destination, which seems perpetually in dispute."
—from Promised Land
Americans need periodic reminding that they are, to a great extent, people of the book—or, rather, books. In Promised Land, Jay Parini repossesses that vibrant, intellectual heritage by examining the life and times of thirteen "books that changed America." Each of the books has been a watershed, gathering intellectual currents already in motion and marking a turn in American life and thought. Their influence remains pervasive, however hidden, and in his essays Jay Parini demonstrates how these books entered American life and altered how we think and act in the world.

The thirteen "books that changed America":
Of Plymouth Plantation • The Federalist Papers • The Autobiography of Benjamin Franklin • The Journals of Lewis and Clark • Walden • Uncle Tom's Cabin • Adventures of Huckleberry Finn • The Souls of Black Folk • The Promised Land • How to Win Friends and Influence People • The Common Sense Book of Baby and Child Care • On the Road • The Feminine Mystique

Promised Land offers a reading of the American psyche, allowing us to reflect on what our past means for who we are now. It is a rich and immensely readable work of cultural history that will appeal to all book lovers and students of the American character alike.
About the Author
---
Jay Parini, a poet and novelist, teaches at Middlebury College in Vermont. His novels include "The Apprentice Lover, Benjamin's Crossing, "and" The Last Station" (soon to be a motion picture). His fifth volume of poetry was "The Art of Subtraction: New and Selected Poems" (2005). He has written biographies of John Steinbeck, Robert Frost, and William Faulkner, in addition to "The Art of Teaching "(2005)""and" Why Poetry Matters" (2008). His reviews and essays appear frequently in major periodicals, including "The Chronicle of Higher Education "and" The Guardian."
Praise For…
---
"As a history major, I have always felt that books reveal the DNA of a nation's culture. This book is a national treasure that proves my theory! Jay Parini has done very thorough research to ascertain which books changed America's course. He has also created a list of 100 other books that have been very influential in our history. Promised Land is a great resource that every American should have!"
—Pat Schroeder, President & CEO of the Association of American Publishers 

"Reading Jay Parini's wonderful new book, Promised Land, I was reminded of Gore Vidal's observation that we live in the United States of Amnesia. Here is the sovereign cure for our amnesia, the story of our enlightenment and transcendentalist roots, told through the texts of our most life-changing books. Read Promised Land and remember that the greatness of America comes from our enlightenment ideals—often more honored in the breach than the observance. A vital text for the renewal of our country."
—Erica Jong

"Anyone who has ever wondered if books can make a difference will be fascinated and encouraged by Promised Land, Jay Parini's incisive reading of thirteen books that changed our country forever and helped create the nation in which we live today." —Francine Prose