Rose Kennedy: The Life and Times of a Political Matriarch (Hardcover)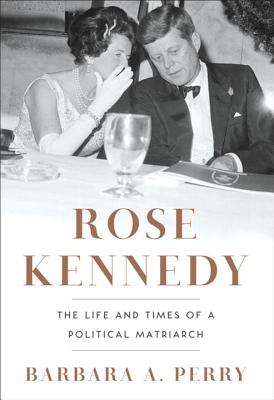 $27.95
Special Order—Subject to Availability
Description
---
An unprecedented look at the life of Rose Kennedy reveals the private woman who became a political legend.
In her compelling and intimate portrait, presidential historian Barbara A. Perry captures Rose Kennedy's essential contributions to the incomparable Kennedy dynasty. This biography—the first to draw on an invaluable cache of Rose's newly released diaries and letters—unearths the complexities behind the impeccable persona she showed the world. The woman who emerges in these pages is a fascinating character: savvy about her family's reputation and resilient enough to persevere through the unfathomable tragedies that befell her. As a young woman, she defied her father, Boston mayor John Fitzgerald, by marrying ambitious businessman Joseph Kennedy. During Joe's diplomatic career, she began carefully calibrating her family's image, stage-managing photo shoots and interviews of her nine children and herself. After husband Joe's isolationist views on the eve of World War II made him a political liability, Rose took to the campaign trail for son Jack. Her perfectionism, initially a response to the strictures imposed on Catholic women, ultimately created a family portrait that resonated in modern politics and media.
Perry's account looks past the fanfare, poignantly revealing the matriarch's vulnerability. Rose sought solace from crushing personal tragedies and a philandering husband in prayer, habitual shopping, travel, and medication. Initially ashamed and afraid of daughter Rosemary's mental disability, Rose ultimately shined a light on the affliction, raising millions of dollars for disabled children. An indefatigable campaigner for Jack, Bobby, and Teddy, she had an unshakable Catholic faith that informed their compassionate social policies and her daughters' philanthropies.
The definitive biography, Rose Kennedy provides unequaled access to the life of a remarkable woman who witnessed a century of history and masked her family's more inconvenient truths while capturing the American imagination.
About the Author
---
Barbara A. Perry, a well-known authority on the Kennedys, is Gerald L. Baliles Professor and director of Presidential Studies at the University of Virginia's Miller Center, where she co-directs the Presidential Oral History Program. As part of her extensive research on the American presidency, she interviews prominent members of previous administrations. She has authored or edited fourteen books including Rose Kennedy: The Life and Times of a Political Matriarch and Jacqueline Kennedy: First Lady of the New Frontier, among other works.
Praise For…
---
Laudable…Perry employs a newly released trove of diaries and letters to add nuance and detail to an essentially familiar story.
— Julia M. Klein - Boston Globe

Barbara Perry's story of Rose Kennedy will likely become the definitive biography of one of the most important women of the 20th century. Perry utilizes newly released materials to tell a more complete story of the matriarch of the Kennedy family.
— Trey Grayson, Director, Institute of Politics, Harvard University

A fuller picture than ever before…Perry writes with compassion and brings keen insight into what Rose Kennedy's own words tell us about this complex woman.
— Amy Scribner - Book Page

An insightful portrait of this paradoxical woman…[Kennedy] gave the public every reason to love her.
— People

Barbara Perry has done it again! Rose Kennedy is the much needed, balanced biography of the grand matriarch of American politics. Whether it was helping the disabled, raising children, or playing ward boss, Mrs. Kennedy was a force of nature.

— Douglas Brinkley, Professor of History at Rice University and author of Cronkite

At the core of most families, frequently out of the public spotlight, is the matriarch. She personifies and by example extends the values and mores that make that family unique. Mrs. Rose Kennedy was such a woman. Raised in a high profile political family, she nurtured one of America's most influential families. Her influence continues to be a force in American culture. Rose Kennedy captures the essence of this exceptional leader. It places her in the spotlight she avoided but richly deserves.
— Bob Graham, U.S. Senator

Rose Fitzgerald Kennedy was one of the most inspiring women of the twentieth century. Everyone knows her as the mother of President Kennedy, but her story is far richer—one for the ages. Barbara Perry brilliantly and sensitively shows us Rose's world, filled with almost unimaginable privilege yet scarred by terrible tragedies that would have been unbearable for most. You will be deeply moved by Perry's magnificently researched account of this remarkable centenarian, whose steely optimism and unshakeable religious faith overcame life's darkest detours.
— Larry J. Sabato, Director, University of Virginia Center for Politics

Perry's biography is a finely crafted, comprehensive account of one of the most driven women in the shadows of American political history…While there are untold numbers of books on the Kennedys, Perry adds archival details and nuance to our understanding of Rose. Kennedy completists and novices alike are sure to find the book fascinating as it further reveals the perspective of the strong woman behind the dynasty.
— Lisa Guardarini - Library Journal

Perry has created an insightful portrait of this paradoxical woman.
— Helen Rogan - People