Ulysses and Us: The Art of Everyday Life in Joyce's Masterpiece (Hardcover)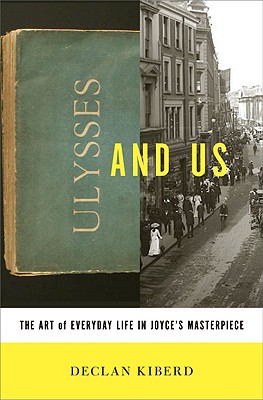 Out of Print in This Format
Description
---
Why James Joyce's great modernist masterpiece is a book that can teach ordinary people to live better lives.
Declan Kiberd, professor of Anglo-Irish literature at the University College Dublin and Ireland's premier literary historian, offers an audacious, pioneering new take on James Joyce's masterpiece.
Ulysses
, he argues, is not an esoteric work for the scholarly few but indisputably a work rooted in the lives of ordinary citizens, offering a humane vision of a more tolerant and decent life in the modern world.
Structuring his analysis around the mundane pleasures highlighted throughout the work—including waking, walking, and drinking—Kiberd progresses through each of
Ulysses
's episodes to elegantly reveal that Joyce's ultimate goal was to create a book honoring the richness of daily life. At a time when most other modernist authors adopted a rather dismissive tone toward popular culture and the emerging noise of industry, Joyce wrote
Ulysses
to extol the everyday man and embrace the bustle of middle-class streets. He wanted to infuse that commonplace Dublin world, in all of its grit and vulgar physicality, with a fierce passion and a miraculous interiority that would illuminate its underlying beauty.
For Kiberd, the seemingly banal hero of
Ulysses
, Leopold Bloom, embodies an intensely ordinary kind of wisdom and, in this way, offers us a model for living well, in the tradition of Homer, Dante, and the Bible—all of which Joyce drew on in writing his book. By shedding light on Joyce's celebration of everyday life, Kiberd rescues
Ulysses
from the dusty shelves of rarified literary neglect and presents it to the audience it was originally written about and for which it was intended.
About the Author
---
Declan Kiberd is a professor of Anglo-Irish literature at the University College Dublin and the author of Inventing Ireland: The Literature of the Modern Nation, which won the Irish Times Prize, and of Ulysses and Us: The Art of Everyday Life in Joyce's Masterpiece. He lives in Dublin.
Praise For…
---
Starred Review (Pick of the Week). Kiberd's take on Ulysses should be on every undergraduate syllabus that includes Joyce's epic work, as it is an ideal introduction for the uninitiated—accessible, richly argued, funny and, in a kind of devil's advocacy fashion, begging for rebuttal....As Kiberd works his argument through each chapter of Ulysses, readers will be fascinated by the father-son reconciliation that is at the heart of the novel, and will forever appreciate how the pyrotechnics that dominate the second half are there simply to deepen the explorations of a very simple theme: how to live, and how, like Odysseus, to get home.

— Publishers Weekly

Starred Review. A daring work that might put a powerful book in the hands of its rightful readers.
— Booklist

Starred Review. Kiberd...here argues that Joyce's famous novel was written in celebration of and intended to be read by the common man; he contends that the novel has been wrongly usurped by the academic elite and is therefore now considered unreadable by all but the most devoted scholars....He is indefatigable in drawing perceptive connections between Joyce's work and the author's literary forebears, though, and makes a convincing case that reading Ulysses can be a transformative experience for those brave enough to attempt it.

— Library Journal

For those who think a century is entitled to more than one 'game-changer,' there's a fine new book of literary criticism called Ulysses and Us: The Art of Everyday Life in Joyce's Masterpiece.

— David Kelly - The New York Times