The Power of Human: How Our Shared Humanity Can Help Us Create a Better World (Paperback)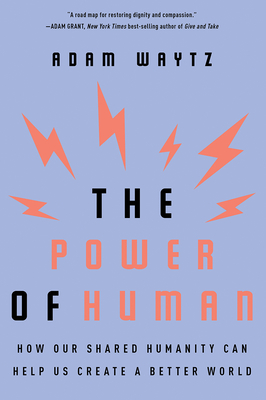 $17.95
In Stock—Click for Locations
Description
---
"A road map for restoring dignity and compassion." —Adam Grant, New York Times best-selling author of Give and Take



An urgent yet hopeful analysis of the twenty-first-century surge in dehumanization, and how we can reverse it.
Everyday life is increasingly human-free, with faceless technology controlling our lives and mediating our interactions with other people—but it doesn't have to be. In The Power of Human, social psychologist Adam Waytz reveals the cost of losing our humanity and shares scientific strategies for counteracting this downward trend, such as promoting variability and social connection at work, addressing power asymmetries in conflict, and forming complementary partnerships with technology. Essential reading for individuals and institutions alike, this book provides unique, evidence-based solutions to the problem of dehumanization to help us to best utilize the influence we have on one another.
About the Author
---
Adam Waytz is an award-winning social psychologist and associate professor at Northwestern University's Kellogg School of Management. His writing appears in the New York Times, the Harvard Business Review, the Wall Street Journal, and elsewhere. He lives in Chicago, Illinois.
Praise For…
---
A brilliant, timely reminder of how the power of humanity touches all aspects of our lives.
— Jonah Berger, author of Contagious

What does it mean to be human? What does it mean to see others as fully human? In this compelling book, Adam Waytz shows how the answer to these questions can help us reduce human conflict and improve lives.
— Carol Dweck, author of Mindset

[Adam Waytz] employs copious amounts of scientific, psychological, and corporate research as well as firsthand experience to provide a road map to a more people-friendly world.… Knowledgeable insights and solutions for increasing sensitivity and overall humane functioning in an often cold world.
— Library Journal

An interesting foray into the realm of emotional intelligence.
— Kirkus Reviews

This is an enlightening book about human-ness, the inherent value it provides, and how we are losing it.… Waytz argues that it's a poor choice when we allow present-day forces of separation to take the human from our relationships: the relation gets removed, leaving just the ships, passing at sea.
— Robert B. Cialdini, author of Influence and Pre-Suasion

Adam Waytz is a leading thinker about the issues arising from the emerging era of pervasive human-machine interaction. Drawing from his social psychology foundation, The Power of Human offers important insight and practical suggestions to master this new definition of humanity.

— Brad Keywell, CEO of Uptake