We're following all official guidelines to keep ourselves healthy on the job, and as a result, shipping may be delayed.
You will receive an email from our web orders team confirming that your order has been processed.
We thank you for your support and your patience at this challenging time.
Will My Cat Eat My Eyeballs?: And Other Questions About Dead Bodies (Paperback)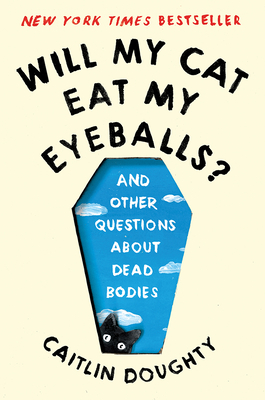 $15.95
Coming Soon—Pre-Order Now
Description
---
The New York Times bestseller that explores the "funny, dark, and at times stunningly existential" (Guardian) world of what happens when we die.
Every day, funeral director Caitlin Doughty receives dozens of questions about death. What would happen to an astronaut's body if it were pushed out of a space shuttle? Do people poop when they die? Can grandma have a Viking funeral?
In Will My Cat Eat My Eyeballs? Doughty blends history, science, and anthropology to offer candid, hilarious answers to urgent questions about what will happen (to our bodies) after we die. This edition features an interview with a psychologist on how to talk about death and new and never-before-answered questions from readers. Beautifully illustrated by Dianné Ruz, Will My Cat Eat My Eyeballs? is "a charming guide into something we take enormous pains to avoid" (Paste).
About the Author
---
Caitlin Doughty is a mortician and the New York Times best-selling author of Smoke Gets in Your Eyes and From Here to Eternity. She is the creator of the web series Ask a Mortician. She lives in Los Angeles, California, where she owns and runs a funeral home.