Enemy Exposure (The Raven Files #2) (Hardcover)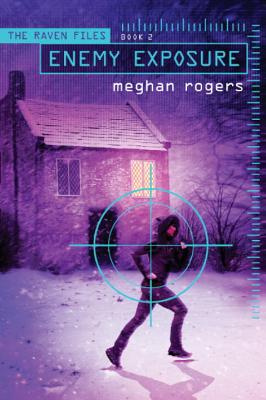 $17.99

Special Order—Subject to Availability
Other Books in Series
This is book number 2 in the The Raven Files series.
Description
---
A spy and action thriller featuring a teenage girl who kicks butt and outsmarts with the best of them. To accomplish her mission, though, she'll need to team up with those she trusts the least in this latest Raven File case.

Jocelyn Steely (code name: Raven) may have escaped the clutches of KATO and won the trust of the IDA, but she isn't out of danger yet. Her cover is blown and KATO agents are after her, but that won't stop Jocelyn. After all, her goal was never merely to escape KATO. She wants revenge.

Dead set on rescuing the one girl that she—and the IDA—failed to save, Jocelyn is forced to recruit other KATO agents to her side. She must hand over just enough intelligence to gain their trust, while still preventing her plans from getting back to her former tormentors. Is she out of her league in this battle? Or does she have what it takes to derail KATO once and for all?
 
This high-stakes spy thriller will have readers on the edge of their seats until the final mind-blowing revelation.

Praise for Enemy Exposure:

"Joss' latest mission is filled with well-paced intrigue, making for a suspenseful page-turner."—Kirkus Reviews

"Purchase . . . for collections needing more awesome spy girl stories."—School Library Journal

Praise for Crossing the Line:
 
"Jocelyn makes for a kick-ass, determined heroine, and there's no shortage of scenes of adrenaline-charged adventure . . . [A] strong debut for both the author and the Raven Files series."—Publishers Weekly
 
"There's a plot twist, revealed secret, or chase scene in every chapter—Rogers knows how to keep the pages turning. . . . The cliff-hanger ending begs for a swift sequel."—Booklist
 
"For fans of TV's Alias, this is the beginning of an excellent new espionage series."—School Library Journal
About the Author
---
Meghan Rogers (www.meghanrogersbooks.com) completed her first novel while she was in high school and has been writing ever since. After college, she earned an MFA in creative writing from Rosemont College. She is the author of Crossing the Line, the first novel in the Raven Files series. Meghan now lives in the Philadelphia area, where she is hard at work on the next Raven Files novel. You can follow her on Twitter @meghanrogers.
Praise For…
---
Praise for Enemy Exposure:

"Joss' latest mission is filled with well-paced intrigue, making for a suspenseful page-turner."—Kirkus Reviews

"Purchase . . . for collections needing more awesome spy girl stories."—School Library Journal
 
Praise for Crossing the Line:
 
"Jocelyn makes for a kick-ass, determined heroine, and there's no shortage of scenes of adrenaline-charged adventure . . . [A] strong debut for both the author and the Raven Files series."—Publishers Weekly
 
"There's a plot twist, revealed secret, or chase scene in every chapter—Rogers knows how to keep the pages turning. . . . The cliff-hanger ending begs for a swift sequel."—Booklist 
 
"For fans of TV's Alias, this is the beginning of an excellent new espionage series."—School Library Journal