Life Is Long!: 50+ Ways to Help You Live a Little Bit Closer to Forever (Hardcover)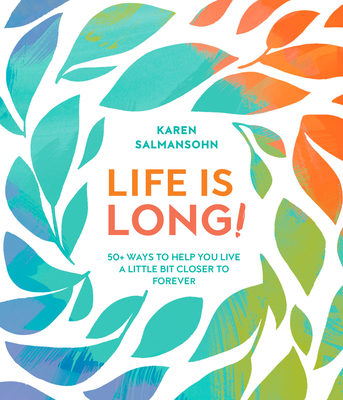 $12.99
In Stock—Click for Locations
Description
---
More than just a powerful longevity tool, this easy-to-read, research-backed guide will help you to boost your immunity and protect your overall health—while also giving you insights and tools to slow down the aging process.
 
Best-selling author and wellness expert Karen Salmansohn presents a witty, inspiring collection of the top 50+ tips for a long and healthy life, backed by a wide range of longevity research. You'll discover insights from the world's Blue Zones (where people live extra long) and takeaways from fascinating studies on everything from coffee to fasting to hidden toxins. 
 
Distilling the latest science into longevity practices that are quick to read and jam-packed with playful humor, Life Is Long sheds light on intriguing questions like

   • what spice improves cardiovascular health as much as aerobic exercise?
   • how often should I stand up from my desk?
   • how can brushing my teeth improve my heart health?
   • how do I keep my chromosomes in good shape?
   • and more!

Full of clear, actionable advice, Life is Long is a phenomenal resource for improving your immune system, boosting mental clarity, feeling more energetic, slimming down & aging at your best!
About the Author
---
KAREN SALMANSOHN is a happiness and wellness expert who is the author of numerous best-selling self-improvement books like Instant Happy and How to Be Happy, Dammit, with more than one million copies sold. She has studied to be a yoga and meditation teacher at Ishta Yoga; founded the DO IT healthy eating program; been featured on the Today show, The View, CNN, and Fox News; served as a columnist for Oprah.com, Psychology Today, CNN, MSN, Yahoo, AOL, Match, and Huffington Post; and been featured in the New York Times, Business Week, Chicago Tribune, Los Angeles Times, Philadelphia Inquirer, Time, Marie Claire, Fast Company, InStyle, Self, ELLE, and the New Yorker.
Praise For…
---
Praise for Karen Salmansohn:
"Salmansohn reminds us that in life, we are in charge of our own destiny. We have the power to overcome through gratitude, humor, and courage." --Tony Robbins

"Karen is an expert on psychological research studies to help you not only recover from the tough times, but also bounce back to an even higher level than your previous bests." --Tim Ferriss

"Karen's writing is like Paxil without the side effects. If you've been sucker-punched by life (in other words, if you're human), Karen gives you empowering, user-friendly tips to deal with it. The very act of reading her writing will make you feel happier." --A. J. Jacobs