The The Dinosaurs of Waterhouse Hawkins (Hardcover)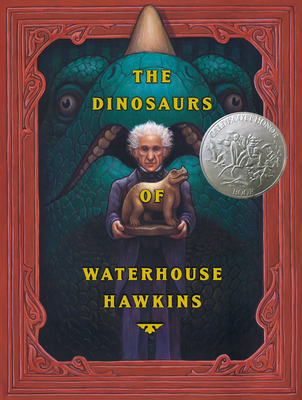 $19.99
In Stock—Click for Locations
Description
---
This extraordinary true story introduces readers to the unforgettable Waterhouse Hawkins: Victorian artist and visionary who built the world's first life-size models of dinosaurs!Can you fathom a time when almost no one in the world knew what a dinosaur looked like? That was true in the mid-nineteenth century, until Victorian artist Waterhouse Hawkins built the first life-size models of dinosaurs, first in his native England and later in New York City, and dazzled the world with his awe-inspiring creations. With impeccable attention to detail, Barbara Kerley unearths a story of consuming passion, triumph, loss, and courage--and ultimately, of an extraordinary legacy that lives on today. Caldecott Medalist Brian Selznick celebrates this complex and fascinating individual through luminous, soul-stirring paintings that form a visual masterpiece.
About the Author
---
Barbara Kerley's award-winning biographies—including What to Do About Alice? and The Extraordinary Mark Twain (According to Susy), both illustrated by Edwin Fotheringham, and The Dinosaurs of WaterhouseHawkins and Walt Whitman: Words for America, both illustrated by Brian Selznick—are consistently praised for their lively prose, meticulous research, and artistic presentation style. Kerley lives in Portland, Oregon. You can visit her online at www.barbarakerley.com.



In addition to The Invention of Hugo Cabret, Brian Selznick is the illustrator of the Caldecott Honor winner, The Dinosaurs of Waterhouse Hawkins, and The New York Times Best Illustrated Walt Whitman: Words for America, both by Barbara Kerley, as well as the Sibert Honor Winner When Marian Sang, by Pam Muñoz Ryan, and numerous other celebrated picture books and novels. Brian has also worked as a set designer and a puppeteer. When he isn't traveling to promote his work all over the world, he lives in San Diego, California, and Brooklyn, New York.
Praise For…
---
Distinctions and Praise for The Dinosaurs of Waterhouse Hawkins: (partial listing)Caldecott Honor BookALA Notable Children's Book NAPPA Gold Award WinnerOrbis Pictus Honor Book for Outstanding Nonfiction for ChildrenPublishers Weekly Best Book of the Year, 2001CBC/NCSS Notable Social Studies Trade Books for Young People CBC/NSTA Outstanding Science Trade Books for Children New York Public Library - 100 Titles for Reading and Sharing * "One look at this amazing-but-true picture book introducing the little-known artist Hawkins and his dreams of dinosaurs, and kids may well forget about Jurassic Park." --Publishers Weekly , starred review * "Stunning." --Kirkus Reviews, starred review* "Appealing on many levels, this will be a favorite dinosaur book for years to come." --Booklist, starred review

Distinctions and Praise for The Dinosaurs of Waterhouse Hawkins: (partial listing)Caldecott Honor BookALA Notable Children's Book NAPPA Gold Award WinnerOrbis Pictus Honor Book for Outstanding Nonfiction for ChildrenPublishers Weekly Best Book of the Year, 2001CBC/NCSS Notable Social Studies Trade Books for Young People CBC/NSTA Outstanding Science Trade Books for Children New York Public Library - 100 Titles for Reading and Sharing * "One look at this amazing-but-true picture book introducing the little-known artist Hawkins and his dreams of dinosaurs, and kids may well forget about Jurassic Park." --Publishers Weekly , starred review * "Stunning." --Kirkus Reviews, starred review* "Appealing on many levels, this will be a favorite dinosaur book for years to come." --Booklist, starred review