If Kennedy Lived: The First and Second Terms of President John F. Kennedy: An Alternate History (Paperback)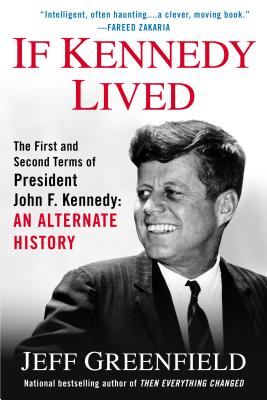 $15.00
Special Order—Subject to Availability
Description
---
What if Kennedy were not killed that fateful day? What would the 1964 campaign have looked like? Would changes have been made to the ticket? How would Kennedy, in his second term, have approached Vietnam, civil rights, the Cold War? With Hoover as an enemy, would his indiscreet private life finally have become public? Would his health issues have become so severe as to literally cripple his presidency? And what small turns of fate in the days and years before Dallas might have kept him from ever reaching the White House in the first place?
The answers Greenfield provides and the scenarios he develops are startlingly realistic, rich in detail, shocking in their projections, but always deeply, remarkably plausible. If Kennedy Lived is a tour de force of American history from one of the country's most brilliant and illuminating political commentators.
About the Author
---
Jeff Greenfield is a five-time Emmy Award-winning analyst and has been a correspondent and commentator for CBS, ABC, CNN, and PBS; a columnist for Time magazine; and a writer for Harper's and The New York Times Magazine. He also worked in politics as a Senate aide, a speechwriter for such men as Senator Robert F. Kennedy and New York mayor John Lindsay, and a political strategist. He is the author or co-author of thirteen books, including the national bestseller Then Everything Changed, an insider's account of the contested 2000 presidential election.
Praise For…
---
Praise for If Kennedy Lived

"It can be an enlightening exercise to challenge the belief that what happened had to happen.  Usually it didn't.  In his diverting If Kennedy Lived, Greenfield, the veteran political commentator, asks how things might have played out had John F. Kennedy survived in Dallas."—The New York Times Book Review

"On the 50th anniversary of JFK's assassination, this is the book to read. An intelligent, often haunting book about what America and the world would have looked like if John Kennedy had lived . . . It's a clever, moving book."—Fareed Zakaria

"Greenfield grounds his fictional history in research and interviews with some of the era's experts and, as in his previous excursion into alternative history, offers an ending that the reader will not see coming . . . Kennedy-era followers will enjoy this book."—Library Journal

"Greenfield does good service in demythologizing JFK to suggest that, had he indeed lived, his second term might have been marked by scandal and controversy, a Camelot undone by the president's own proclivities as much as by the events of the time. . . . Well researched and thought through—an interesting, plausible exercise in pop history."—Kirkus Reviews