1848: Year of Revolution (Paperback)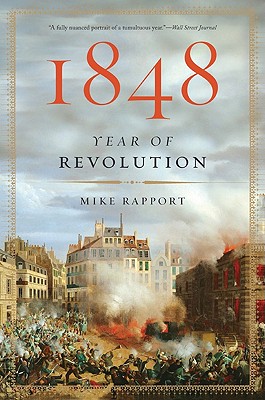 $22.99
In Stock—Click for Locations
Description
---
A "lively, panoramic" history of a revolutionary year (New York Times)

In 1848, a violent storm of revolutions ripped through Europe. The torrent all but swept away the conservative order that had kept peace on the continent since Napoleon's defeat at Waterloo in 1815 -- but which in many countries had also suppressed dreams of national freedom. Political events so dramatic had not been seen in Europe since the French Revolution, and they would not be witnessed again until 1989, with the revolutions in Eastern and Central Europe.

In 1848, historian Mike Rapport examines the roots of the ferment and then, with breathtaking pace, chronicles the explosive spread of violence across Europe. A vivid narrative of a complex chain of interconnected revolutions, 1848 tells the exhilarating story of Europe's violent "Spring of Nations" and traces its reverberations to the present day.
About the Author
---
Dr. Michael Rapport is a professor of history at the University of Glasgow in Scotland and a fellow of the Royal Historical Society. The author of numerous books, Rapport lives in Stirling, Scotland.
Praise For…
---
"A lively, panoramic new history ... a good yarn,
with a keen eye for ground-level details."
—
New York Times
"A fully nuanced portrait of a tumultuous year."—
Wall Street Journal
"Absorbing.... Rapport writes with vigor and has a good ear for memorable details.... Anyone wishing a vivid account of a crucial period in European history can spend many hours engrossed in this book."—
Seattle Times
"As a guide to who the revolutionaries were and what they wanted, Rapport is impeccable."
—
Literary Review (London)
"Cleverly and sensitively chronicled, this is a
pacy, learned history that makes sense of an extraordinary year."
—
Observer (London)
"Rapport's vivid tour d'horizon reminds us of the
dramatic birth-pangs associated with the arrival of modernity...an absorbing
account of a phenomenon that seeded two world wars."
—
Independent (London)
"Mike Rapport picks a judicious and vividly
presented path through a complex year and skilfully juggles political thought
and popular experience."
—
The Daily Telegraph (London)