Erewhon and Erewhon Revisited (Dover Thrift Editions) (Paperback)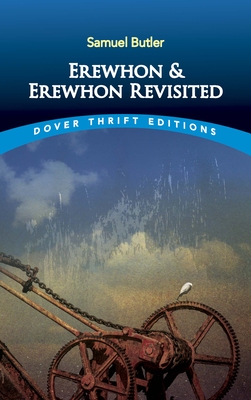 $7.00

Backordered
(This book cannot be returned.)
Description
---
In Erewhon, an anagram for "nowhere," sickness is a punishable crime, criminals receive compassionate medical treatment, and machines are banned, lest they evolve and take over. Originally published in 1872, the proto-steampunk novel Erewhon won its author immediate recognition as a satirist. SamuelButler followed in the tradition of Voltaire and Swift in creating Erewhon and Erewhon Revisited, which are widely recognized as the nineteenth century's most important works of their kind.
Entertaining and provocative, these books are unsparing in their treatment of the hypocrisies of Victorian society, taking aim at the family, church, and mechanical "progress." George Orwell, no stranger to the depiction of futuristic societies, noted that at the time of Erewhon's writing the author needed "imagination of a very high order to see that machinery could be dangerous as well as useful." Today's readers will also find the book remarkably prescient in its anticipation of future sociological trends.
About the Author
---
In addition to his Utopian satire Erewhon, Samuel Butler (1835-1902) remains best known for his semi-autobiographical novel, The Way of All Flesh. His other works comprise studies of Italian art, literary history and criticism, and prose translations of the Illiad and Odyssey that remain in use to this day.