Dinosaurumpus! (Board book)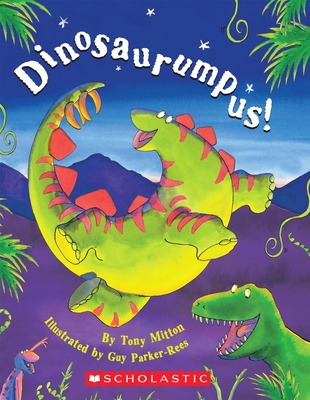 $6.99

Not On Our Shelves—Ships in 1-5 Days
Description
---
Shake, shake, shudder ... near the sludgy old swamp. The dinosaurs are coming. Get ready to romp!On the heels of the bestselling GIRAFFES CAN'T DANCE board book, DINOSAURUMPUS! is now available in board book!Where can you find a Deinosuchus that practically pirouettes on its tail and a T. rex that bounds gracefully through the air? In DINOSAURUMPUS!, where dinosaurs run, boom, shake, and shudder their way to the "sludgy old swamp" and rock the night away. Tony Mitton's delightful rhyme and Guy Parker-Rees's whimsical illustrations will make children want to join in the dance while they learn about some of their favorite prehistoric pals. By the time the romp is over, and the dinosaurs are fast asleep, kids won't be able to shake that jumping, thumping Dinosaurumpus beat!
About the Author
---
Tony Mitton has written many wonderful books for children, including DINOSAURUMPUS!, DOWN BY THE COOL OF THE POOL, SPOOKY HOUR, FARMER JOE AND THE MUSIC SHOW, and ALL AFLOAT ON NOAH'S BOAT, all published by Orchard Books, as well as PLUM, published by Arthur A. Levine Books. Mr. Mitton lives in Cambridge, England, with his wife and two children.
Guy Parker-Rees is one of today's bestselling children's book illustrators. He is the illustrator of the international bestseller Giraffes Can't Dance, as well as Dinosaurumpus!, both written by Giles Andreae. Guy lives in the United Kingdom with his wife and three sons. Visit him online at guyparkerrees.com.
Praise For…
---
Praise for DINOSAURUMPUS! (written by Tony Mitton and illustrated by Guy Parker-Rees)"Perfect for bedtime reading.... It's sure to be a big hit at story hours, too; expect young listeners to jump up and add their own wriggles and shakes to the dinosaur party." --BOOKLIST"From the swoop and 'Eeeeeek!' of the pteranodon ... to the high-kicking 'Stomp! Stomp! Stomp!' of the T. rex, each animal presents a fine opportunity for vocal and physical silliness that will be welcome wherever blood-stirring activity is needed. The colorful, eye-popping illustrations are sure to entice." --SCHOOL LIBRARY JOURNAL Praise for GIRAFFES CAN'T DANCE (written by Giles Andreae and illustrated by Guy Parker-Rees)"Parker-Rees's kicky depictions of slightly anthropomorphic animals boogying on the dance floor are the highlight here. His watercolor and pen-and-ink artwork exudes a fun, party vibe." --PUBLISHERS WEEKLY

Praise for DINOSAURUMPUS! (written by Tony Mitton and illustrated by Guy Parker-Rees)"Perfect for bedtime reading.... It's sure to be a big hit at story hours, too; expect young listeners to jump up and add their own wriggles and shakes to the dinosaur party." --BOOKLIST"From the swoop and 'Eeeeeek!' of the pteranodon ... to the high-kicking 'Stomp! Stomp! Stomp!' of the T. rex, each animal presents a fine opportunity for vocal and physical silliness that will be welcome wherever blood-stirring activity is needed. The colorful, eye-popping illustrations are sure to entice." --SCHOOL LIBRARY JOURNAL Praise for GIRAFFES CAN'T DANCE (written by Giles Andreae and illustrated by Guy Parker-Rees)"Parker-Rees's kicky depictions of slightly anthropomorphic animals boogying on the dance floor are the highlight here. His watercolor and pen-and-ink artwork exudes a fun, party vibe." --PUBLISHERS WEEKLY