Isolation Island: A Pandemic Story (Hardcover)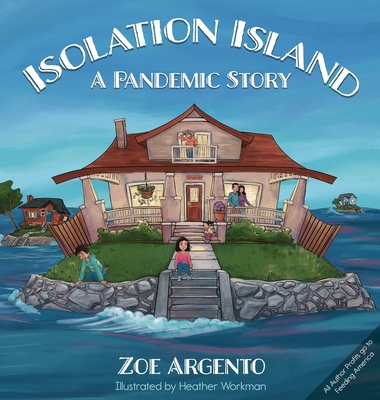 $15.99

Not On Our Shelves—Ships in 1-5 Days
Description
---
Isolation Island: A Pandemic Story is an illustrated picture book for elementary school-aged children about a young girl dealing with her emotions about social-distancing and the COVID-19 pandemic. The story describes the pandemic in first person from the imaginative and graphic perspective of a child. Katy, the main character, explains that the houses in her neighborhood separated into islands during the pandemic, people walk around in bubbles, and she attends school through a periscope. The illustrations show these images in luminous colors and detail, as well as masks, hand sanitizer, and appropriate social distance.
With her birthday approaching, Katy feels angry that she won't be able to host a sleepover with friends. The child storms outside but is consoled by Grandma. As they walk around the block, Katy notices the "bubbles of light" shining from her neighbors' houses. She acknowledges that while things feel distant now, "we are separate together, and we are not alone."
A book to help all children - and perhaps some adults - to cope with social isolation. All the author's profits from sales will be donated to Feeding America, America's largest hunger-relief organization.
The main character and her family are depicted with light brown skin and may be a Latino family. Other characters in the neighborhood are shown as a range of races. The houses are inspired by modest bungalows typical of Denver neighborhoods, but could represent neighborhoods in many locations.