Honey, Baby, Sweetheart (Hardcover)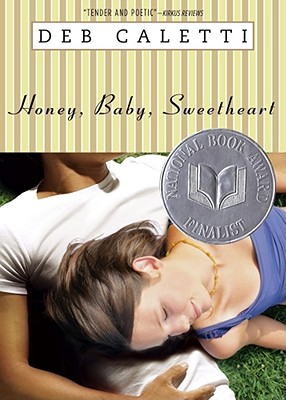 $15.95

Special Order—Subject to Availability
Description
---
I'm not usually a reckless person. What happened the summer of my junior year was not about recklessness. It was about the way a moment, a single moment, can change things and make you decide to try to be someone different.
Ruby McQueen is a sixteen-year-old high school student with the name, she thinks, of a rodeo cowgirl porn star, or, maybe worse, a Texas beauty queen runner-up. Her mother, Ann, one of the town librarians, was reading too much Southern literature before Ruby was born, and Chip, Ruby's father, who was already dreaming of Nashville stardom, thought it would make a great stage name someday. Soon after Chip Jr. was born, Chip left to try his luck in the music business and ended up at the Gold Nugget Amusement Park one state over. He returns occasionally for visits that turn Ann's heart upside down, and Ruby's stomach inside out.
It is summer in the northwest town of Nine Mile Falls, a place where brown bears sometimes show up in the shopping mall and people in hang gliders soar down the mountains and sometimes get stuck dangling from the trees. Ruby, ordinarily dubbed The Quiet Girl, finds herself hanging out with gorgeous, rich, thrill-seeking Travis Becker. With Travis, Ruby can be someone she's never been before: Fearless. Powerful. But Ruby is in over her head, and finds she is risking more and more when she's with him.
In an effort to keep Ruby occupied and mend her own broken heart, Ann drags Ruby to the weekly book club she runs for seniors. At first Ruby can't imagine a more boring way to spend an afternoon, but she is soon charmed by the Casserole Queens (named, quite ironically, after women who bring casseroles to new widowers' homes in hopes of snagging a husband). When the group discovers one of their own members is the subject of the tragic love story they are reading, Ann and Ruby ditch their respective obsessions to spearhead a reunion between the long-ago lovers. But this mission turns out to be more than just a road trip. Somewhere along the way Ruby and her mother learn the true meaning of love and freedom from it, individual purpose, and the real ties that bind.
This lyrical, multigenerational story of love, loss, and redemption speaks to everyone who has ever been in love -- and lived to tell the tale.
Right then one of the garage doors went up, giving me the fright of my life. I felt frozen in place, and I wasn't sure if I would seem more guilty staying where I was or walking on after I'd already surely been spotted. I don't even know why I felt so bad when it was really only a glimpse I had been stealing. My feet, by default, made the decision whether we were staying or going -- they wouldn't move. So as the door went up, same as a curtain when a play is starting, revealing Travis Becker on that almost stage, I was still standing there, staring.
I didn't know it was Travis then, of course. I only saw this boy, good-looking, oh God, with a helmet under one arm, looking at me with this bemused smile. Right away I got that Something About To Happen feeling. Right away I knew he was bad, and that it didn't matter.
-- from Honey, Baby, Sweetheart