Portrait of a Town: Cape Charles, 1940-1960 (Paperback)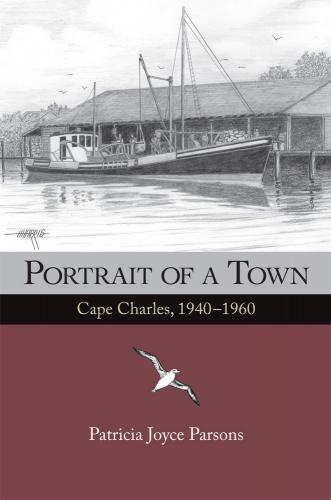 $15.95

Special Order—Subject to Availability
Description
---
A collection of vignettes describing the author's experience growing up in the small bayside town of Cape Charles, Virginia, from 1940 to 1960. The book explores circumstances of life in the rural town, the effects of World War II on the area, and the workings and influence of the railroad in Cape Charles, as well as its eventual decline.
About the Author
---
Born in Pittsburgh, Pennsylvania, Patricia Joyce Parsons moved to Cape Charles, Virginia as an infant when her father's employment with the Pennsylvania Railroad transferred the family to the Eastern Shore of Virginia. Growing up in Cape Charles, Pat experienced the carefree lifestyle of a small town juxtaposed against the hustle and bustle of wartime efforts flowing in and out of the Chesapeake Bay and the nearby Norfolk naval shipyards. Like many of her contemporaries, Pat left Cape Charles as the town began to dwindle in the post-war period. She attended Radford University, and subsequently, found employment in Washington, D.C. at the Securities and Exchange Commission and the Air Transport Association. In 1963, Pat married Boston-born lawyer George Parsons, and together they moved to Richmond, Virginia as their family began to grow and the desire for a less complicated life began to emerge. In Richmond, Pat raised five children and has been a real estate agent for over twenty-six years. In her spare time, she has volunteered as a French teacher for the Lifelong Learning Institute of Chesterfield County and served on the boards of the Oxford Civic Association and the Richmond Chapter of the National Society of Arts and Letters. Pat has always had an interest in writing. She was published in the Radford Review and periodically contributes to civic publications, but somehow, the business of raising a large family left little time to write. She considers herself an accidental author. Beginning with a memoir for her family (which she had no intention of publishing), Pat stumbled across the idea for her first published book, "Portrait of a Town." In returning to her hometown to research her original memoir, Pat realized, through conversations with current residents, that she possessed a historical memory of Cape Charles that had never been published. She decided to use her vivid memories to bring the town and era of her childhood to life through a colorful collection of vignettes depicting daily life from a unique perspective. Pat plans to continue her writing in the same vein as "Portrait of a Town." She feels she has found her niche with a charming, personal, yet historically-based style.
Praise For…
---
"In 'Portrait of a Town,' Pat Parsons reflects with warm nostalgia on her experiences growing up in a lovely and proud Victorian bayside village on the Eastern Shore of Virginia. Her delightful portrayal of daily life during WWII, and of Cape Charles's struggle to survive the changing times, provide valuable insight into the history of the area."
~ John M. Barber, Fellow, American Society of Marine Artists

"Pat Parsons's new book, 'Portrait of a Town,' speaks of her youth growing up in the Chesapeake Bay waterfront/railroad town on the Eastern Shore of Virginia. Parsons's straightforward approach to storytelling and marvelous memory capture the very essence of small-town American life during the decades of the 1940s and 50s. Her tales make the reader long for those wonderful, simple days of youth. Although specific to the town of Cape Charles, her well-written stories will interest those near and far as her life memories are a reminder for many of their own lives growing up in small town America. The book is a read well worth reading!"
~ Larry Chowning, author of 'Harvesting the Chesapeake: Tools and Traditions'; 'Chesapeake Legacy: Tools and Traditions'; 'Chesapeake Bay Buyboats'; 'Deadrise and Cross-planked'; 'Barcat Skipper: Tales of a Tangier Island Waterman'; and other books on the Chesapeake Bay.