Llewellyn's Moon Sign Book: Conscious Living by the Cycles of the Moon (Paperback)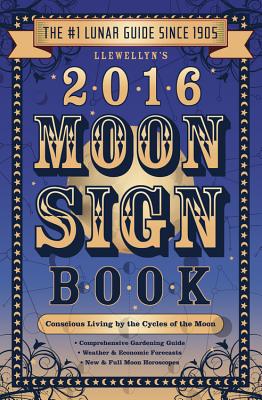 Description
---
For more than one hundred years, this easy-to-use guide has provided detailed times and dates to help you achieve success. Use the moon's dynamic energies to get the best results for:
Planting - Hunting - Fishing - Buying a Car - Training Pets - Asking for a Loan - Investing - Brewing - Entertaining - Starting a New Business - Household Chores - Buying Electronics - Weeding - Home Repairs - Canning - Breaking Habits - And Much More
With lunar timing tips on planting and harvesting and a guide to companion plants, Llewellyn's Moon Sign Book is a gardener's best friend. Additionally, discover tips on how to get and stay healthy, take care of your garden in the winter months, reclaim the moon in midlife, work with spring bulbs, and live green.
Economic forecasts
Detailed weather predictions for each region
Best dates for relationships, business, finances, and more
Weekly pages featuring tips for growing fruits and vegetables
A monthly lunar aspectarian with moon tables
About the Author
---
Llewellyn Publications has grown and expanded into new areas of personal growth and transformation since it began as the Portland School of Astrology in 1901. Along with the strong line of astrology books the company was founded upon, Llewellyn publishes books on everything from alternative health and healing, Wicca and Paganism, to metaphysics and the paranormal-and since 1994 has published a growing list of Spanish-language titles. Llewellyn has long been know as one of America's leading publishers of New Age books, producing a wide variety of valuable tools for transformation of the mind, body and spirit. Reach for the Moon-and discover that self-help and spiritual growth is what Llewellyn is all about.