Meditation As Medicine: Activate the Power of Your Natural Healing Force (Paperback)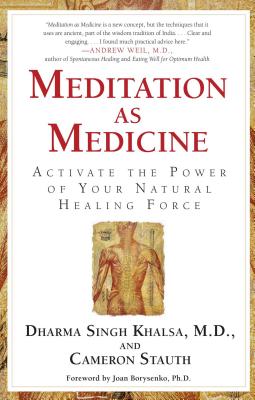 Description
---
Proven effective by scientific research and presented here by Dr. Dharma Singh Khalsa and Cameron Stauth, the practice of Medical Meditation revolutionizes the healing process. By balancing and regenerating the body's ethereal and physical energies through simple meditations, Medical Meditation unites the mind, body, and spirit into a powerful triad.
Each Medical Meditation here has a specific physiological effect, targeting afflictions from arthritis to ulcers to cancer. Dr. Khalsa details the five unique attributes that endow this type of meditation with far more power than standard meditation. The combination of special postures and movements; exact positioning of the hands and fingers; particular mantras; specific breathing patterns; and a unique focus of concentration can change your entire biochemical profile, easing you into a calm, healing state. Practiced in conjunction with conventional or alternative medical treatments, cutting-edge Medical Meditation activates the healing force within you.
About the Author
---
Guru Dharam S. Khalsa teaches at the School of Kundalini Yoga (SKY) in the UK. He studied with Yogi Bhajan—the man who introduced the practice of Kundalini Yoga to the United States—for more than twenty years.
Praise For…
---
Andrew Weil, M.D. author of Spontaneous Healing and Eating Well for Optimum Health Meditation as Medicine is a new concept, but the techniques that it uses are ancient, part of the wisdom tradition of India...Clear and engaging...I found much practical advice here.

Deepak Chopra, M.D. author of How to Know God In Meditation as Medicine, Dr. Dharma Singh Khalsa shows us how the tremendous power of medical meditation can heal not only the body but also the mind and soul. I strongly recommend it.

The Dallas Morning News Intelligent, accessible, and free of cant and hyperbole.