The 10 PM Question (Paperback)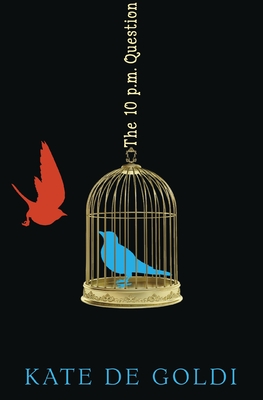 $6.99

Special Order—Subject to Availability
Description
---
Worry-prone Frankie keeps his family secret under control—until a bold, inquisitive girl enters his life—in this warm, witty, and captivating YA novel. (Ages 12 and up)

Twelve-year-old Frankie Parsons is a talented kid with a quirky family, a best friend named Gigs, and a voice of anxiety constantly nibbling in his head: Could that kidney-shaped spot on his chest be a galloping cancer? Are the smoke alarm batteries flat? Has his cat, The Fat Controller, given them all worms? Only Ma, who never leaves home, takes Frankie's worries seriously. But then, it is Ma who is the cause of the most troubling question of all, the one Frankie can never bring himself to ask. When a new girl arrives at school—a daring free spirit with unavoidable questions of her own—Frankie's carefully guarded world begins to unravel, leading him to a painful confrontation with the ultimate 10 p.m. question. Deftly told with humor, poignancy, and an endearing cast of characters, THE 10 P.M. QUESTION will touch everyone who has ever felt set apart.
About the Author
---
Kate De Goldi is an award-winning writer of short fiction, novels, and picture books for readers ranging from young children to teens and adults. A New Zealand Arts Foundation Laureate, she lives in Wellington, New Zealand.
Praise For…
---
Nearly every character… is a loving, talented, unforgettable eccentric whose dialogue, much like De Goldi's richly phrased narration, combines heart-stopping tenderness with perfectly timed, deliciously zany humor. Readers from early teens through adults will be drawn to this beautifully nuanced, unsentimental view of family life, friendship, the heroic requirements of growing up, and the rewards of speaking the unspeakable out loud.
—Booklist (starred review)

Gorgeously written, this bittersweet chronicle of family complexities is wise but never pat—a masterful meditation on anxiety and courage that will be savored by thoughtful readers.
—Kirkus Reviews (starred review)

Deeply moving in its portrait of an overly responsible child picking his way along the edge of adolescence.
—The Horn Book (starred review)

A moving tale about the challenges of family life and being different. The book is highly descriptive and a great deal of it is made up of Frankie's memories, which establish his character and give readers insight into his life. They will not only feel his anxiety, but also understand where it comes from.
—School Library Journal

Characterization and relationship dynamics are skillfully realized at all levels, from Frankie's terminally exasperated sister to his formerly delinquent brother to his cheerfully workaholic dad; even Frankie's corrections-officer-turned-teacher and burly bus driver add dimension and clarity to Frankie's year of burgeoning self-awareness.
—Bulletin of the Center of Children's Books

What is the answer to the 10 p.m. question? Perhaps it is that there is beauty in imperfection and all you need is love.
—VOYA

An exquisitely told story with just the right amount of humor to counter the pathos.
—Library Media Connection