The Just City (Thessaly #1) (Hardcover)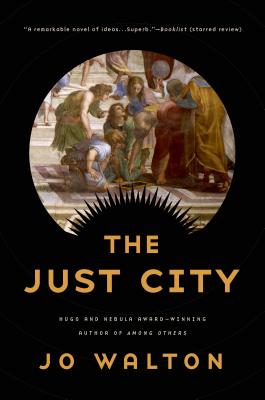 $34.99
Not On Our Shelves—Ships in 1-5 Days
(This book cannot be returned.)
Description
---
"Here in the Just City you will become your best selves. You will learn and grow and strive to be excellent."

Created as an experiment by the time-traveling goddess Pallas Athene, the Just City is a planned community, populated by over ten thousand children and a few hundred adult teachers from all eras of history, along with some handy robots from the far human future—all set down together on a Mediterranean island in the distant past.
The student Simmea, born an Egyptian farmer's daughter sometime between 500 and 1000 A.D, is a brilliant child, eager for knowledge, ready to strive to be her best self. The teacher Maia was once Ethel, a young Victorian lady of much learning and few prospects, who prayed to Pallas Athene in an unguarded moment during a trip to Rome—and, in an instant, found herself in the Just City with grey-eyed Athene standing unmistakably before her.
Meanwhile, Apollo—stunned by the realization that there are things mortals understand better than he does—has arranged to live a human life, and has come to the City as one of the children. He knows his true identity, and conceals it from his peers. For this lifetime, he is prone to all the troubles of being human.
Then, a few years in, Sokrates arrives—the same Sokrates recorded by Plato himself—to ask all the troublesome questions you would expect. What happens next is a tale only the brilliant Jo Walton could tell.
About the Author
---
Jo Walton won the John W. Campbell Award for Best New Writer on publication of her debut novel The King's Peace. She won the World Fantasy Award in 2004 for Tooth and Claw, and in 2012, the Hugo and Nebula Awards for Among Others. In addition to writing SF and fantasy, she has also designed role-playing games and published poetry. Her song "The Lurkers Support Me In Email" has been quoted innumerable times in online discussions all over the world, frequently without attribution. A native of Wales, she lives in Montreal.
Praise For…
---
" A fast-moving yet thought-provoking novel."—School Library Journal
"Walton's no-nonsense prose and dialogue are the kind of thing I can read anywhere, in any situation, and fall into a world of intelligent people speaking to each other intelligently in interesting ways...Brilliant, compelling, and frankly unputdownable."—NPR
"An extraordinarily ambitious achievement."—The Globe and Mail