Or Perish in the Attempt: The Hardship and Medicine of the Lewis and Clark Expedition (Paperback)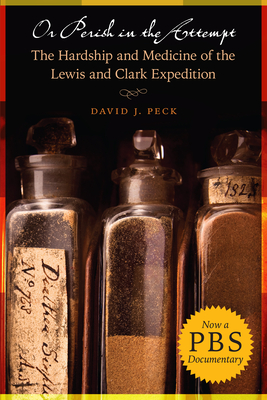 $23.95

Not On Our Shelves—Ships in 1-5 Days
Description
---
David J. Peck's Or Perish in the Attempt ingeniously combines the remarkable adventures of Lewis and Clark with an examination of the health problems their expedition faced. Formidable problems indeed, but the author patiently, expertly—and humorously—guides us through the medical travails of the famous journey, juxtaposing treatment then against remedy now. The result is a fascinating book that sheds new light not only on Lewis and Clark and the men and one remarkable woman (and her infant) who accompanied them along an eight-thousand-mile wilderness path but also on the practice of medicine in their time and place.
About the Author
---
David J. Peck is a retired physician and a popular, nationally recognized speaker on the medical aspects of the Lewis and Clark Expedition. He and his wife live in San Diego. Dr Peck can be contacted through his website @ lewisandclarkmedicine.com. 
Moira Ambrose (1939–2009) wrote more than thirty books with her husband, Steven E. Ambrose, including several bestsellers. R. F. "Bob" Morgan is a Montana artist and cofounder of the Western Rendezvous of Art, which brings collectors and artists from around the country to Helena, Montana. 
Praise For…
---
"Altogether revealing, instructive, and entertaining."—Dave Walter, research historian, Montana Historical Society

"Dr. Peck's book is significant not only for the new medical information it brings to light but because it is one of the most readable and entertaining of the books about the Lewis and Clark Expedition. When asked which of the many books someone should read about the Expedition—or give as a gift—I recommend Or Perish in the Attempt."—Carol A. Bronson, former executive director, Lewis and Clark Trail Heritage Foundation, Inc.

"The strength of Dr. Peck's book is its delightful readability. . . . A splendid narrative that binds the reader."—Frank Iber, MD, Journal of the American Medical Association

"David Peck has brought a transfusion of new energy to Lewis and Clark scholarship. Everyone who reads his excellent and witty book on the medical aspects of Lewis and Clark will gain a new appreciation for the almost unbelievable stamina of the men--and one very remarkable woman--of the Lewis and Clark Expedition."--Clay S. Jenkinson, scholar-in-residence, Lewis and Clark College