Through the Language Glass: Why the World Looks Different in Other Languages (Hardcover)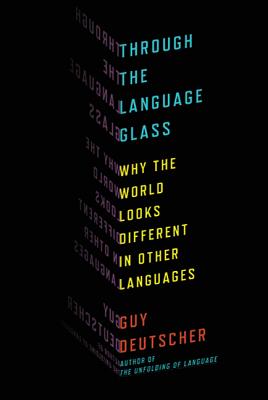 $28.00
Special Order—Subject to Availability
Description
---
A masterpiece of linguistics scholarship, at once erudite and entertaining, confronts the thorny question of how—and whether—culture shapes language and language, culture
Linguistics has long shied away from claiming any link between a language and the culture of its speakers: too much simplistic (even bigoted) chatter about the romance of Italian and the goose-stepping orderliness of German has made serious thinkers wary of the entire subject. But now, acclaimed linguist Guy Deutscher has dared to reopen the issue. Can culture influence language—and vice versa? Can different languages lead their speakers to different thoughts? Could our experience of the world depend on whether our language has a word for "blue"?
Challenging the consensus that the fundaments of language are hard-wired in our genes and thus universal, Deutscher argues that the answer to all these questions is—yes. In thrilling fashion, he takes us from Homer to Darwin, from Yale to the Amazon, from how to name the rainbow to why Russian water—a "she"—becomes a "he" once you dip a tea bag into her, demonstrating that language does in fact reflect culture in ways that are anything but trivial. Audacious, delightful, and field-changing, Through the Language Glass is a classic of intellectual discovery.
About the Author
---
Guy Deutscher is the author of The Unfolding of Language and Through the Language Glass. Formerly a fellow of St. John's College, Cambridge, and of the Department of Ancient Near Eastern Languages at the University of Leiden in the Netherlands, he is an honorary research fellow at the School of Languages, Linguistics and Cultures at the University of Manchester. He lives in Oxford, England.
Praise For…
---
"Fascinating reading.… Deutscher does not merely weave little-known facts into an absorbing story. He also takes account of the vast changes in our perceptions of other races and cultures over the past two centuries." —Derek Bickerton, The New York Times Book Review
"An informative, pleasurable read… A gifted writer, Deutscher picks his way nimbly past overblown arguments to a sensible compromise." —Amanda Katz, The Boston Globe
"A thrilling and challenging ride." —Christopher Schoppa, The Washington Post
"Brilliantly surveys the differences words and grammar make between cultures." —Carlin Romano, The Chronicle of Higher Education
"A most entertaining book, easy to read but packed with fascinating detail." —Michael Quinion, World Wide Words
"Through The Language Glass is so robustly researched and wonderfully told that it is hard to put down... Deutscher brings together more than a century's worth of captivating characters, incidents, and experiments that illuminate the relationship between words and mind... He makes a convincing case for the influence of language on thought, and in doing so he reveals as much about the way color words shape our perception as about the way that scientific dogma and fashion can blind us." —Christine Kenneally, New Scientist
"Entertainingly written and thought-provoking… Deutscher has a talent for making scientific history read like an engrossing adventure… I recommend this intelligent and engaging book to anyone seeking an introduction to the relationship between language, thought, and culture." —Margery Lucas, PsycCritiques
"This fabulously interesting book describes an area of intellectual history replete with brilliant leaps of intuition and crazy dead-ends. Guy Deutscher, who combines enthusiasm with scholarly pugnacity, is a vigorous and engaging guide to it… A remarkably rich, provocative, and intelligent work." —Sam Leith, The Sunday Times (UK)
"A brilliant account of linguistic research over two centuries… As befits a book about language, this inspiring amalgam of cultural history and science is beautifully written." —Clive Cookson, Financial Times (UK)
"A delight to read." —Christopher Howse, The Spectator (UK)
"Fascinating and well written… Deutscher's scholarly and eloquent prose made the book an enjoyable read and I learnt lots of great anecdotes along the way." —Alex Bellos, The Guardian (UK)
"Deutscher writes as clearly and engagingly as can be… Will this study of language make you giddy? Oh, absolutely." —Craig Brown, The Mail on Sunday (UK)
"Jaw-droppingly wonderful… A marvelous and surprising book. The ironic, playful tone at the beginning gradates into something serious that is never pompous, something intellectually and historically complex and yet always pellucidly laid out. It left me breathless and dizzy with delight." —Stephen Fry, presenter of Stephen Fry in America, host of QI, and author of Moab Is My Washpot
"At once highly readable and thoroughly learned... Here is an important and original new history of the struggle to understand how language, culture, and thought are connected." —Joan Bybee, Distinguished Professor of Linguistics, University of New Mexico