The Beautiful Country and the Middle Kingdom: America and China, 1776 to the Present (Hardcover)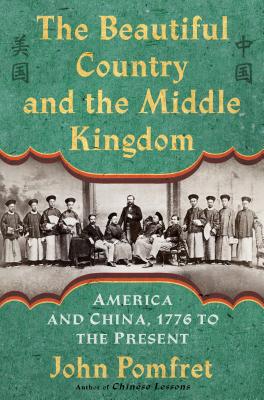 $40.00
Special Order—Subject to Availability
Description
---
A remarkable history of the two-centuries-old relationship between the United States and China, from the Revolutionary War to the present day
From the clipper ships that ventured to Canton hauling cargos of American ginseng to swap Chinese tea, to the US warships facing off against China's growing navy in the South China Sea, from the Yankee missionaries who brought Christianity and education to China, to the Chinese who built the American West, the United States and China have always been dramatically intertwined. For more than two centuries, American and Chinese statesmen, merchants, missionaries, and adventurers, men and women, have profoundly influenced the fate of these nations. While we tend to think of America's ties with China as starting in 1972 with the visit of President Richard Nixon to China, the patterns—rapturous enchantment followed by angry disillusionment—were set in motion hundreds of years earlier.
Drawing on personal letters, diaries, memoirs, government documents, and contemporary news reports, John Pomfret reconstructs the surprising, tragic, and marvelous ways Americans and Chinese have engaged with one another through the centuries. A fascinating and thrilling account, The Beautiful Country and the Middle Kingdom is also an indispensable book for understanding the most important—and often the most perplexing—relationship between any two countries in the world.
About the Author
---
John Pomfret is a reporter for The Washington Post and the author of Chinese Lessons: Five Classmates and the Story of the New China. Formerly the Post's Beijing bureau chief, he is now the Los Angeles bureau chief. In 2003, Pomfret was awarded the Osborn Elliott Prize for Excellence in Asian Journalism by the Asia Society, an annual award for best coverage of Asia. He lives with his wife and family in Los Angeles.
Praise For…
---
WINNER OF THE 2017 ARTHUR ROSS BOOK AWARD FROM THE COUNCIL ON FOREIGN RELATIONS
"Donald Trump (or his next secretary of state) would be well advised to read this timely and comprehensively informative book...very good and important." —Simon Winchester for The New York Times Book Review
"...exhaustively researched and vigorously told...If the new administration in Washington wishes to get a sense of the broad sweep of American history with China, I can think of few better places to start than this book." —Howard W. French for The Wall Street Journal
"[An] absorbing new book...[Pomfret] weaves a lively tale, peppered with a cast of adventurers, spies, preachers, communists and McCarthyites who have boosted and sabotaged the relationship in turn over the years." —The Economist
"One thing that John Pomfret does very effectively in The Beautiful Country and the Middle Kingdom is help us appreciate just how long Chinese views of America have been shaped, as they are now, by a mix of feelings including admiration, attraction, disappointment and disdain. Pomfret, a veteran journalist and author of the well-received Chinese Lessons: Five Classmates and the Story of the New China (2006), reminds us that we are dealing with a love-hate relationship that dates back to the years following the American Revolution… The Beautiful Country and the Middle Kingdom, though containing clear arguments, including the idea that there is a related love-hate dynamic in American views of China, is ultimately a biographically driven work." —Financial Times
"Trump must learn more about the history of U.S.-China relations … A new book by veteran journalist John Pomfret, titled The Beautiful Country and the Middle Kingdom, would be a good start as it details the two century love-hate relationship between the two powers."—The Diplomat

"The book is particularly timely because it takes readers on a grand, historic adventure that shows the cyclical love-hate relationship, when current politicians in both countries are sometimes fond of focusing on the hate...[it] fleshes out the dual U.S.-China narrative through stories of people, without losing sight of the larger context...well-researched."—NPR.org
"In 693 fact-filled pages rich in detail but driven by a lively narrative style, Mr. Pomfret brings alive a fascinating cast of characters with good judgment and sympathetic imagination...The result is a work that is both outstanding, in-depth journalism and an excellent "first draft" of history when dealing with contemporary and near-contemporary events. Mr. Pomfret has an eye for colorful characters and telling quotes."—The Washington Times
"The book is sweeping in scope but nonetheless manages to paint a vivid picture of personal interactions, adventures and misadventures… a deeply informative work. Examining the relationship between two countries as vast and complicated as the US and China takes stamina, yet as the world increasingly revolves around the interactions of these two superpowers, it is important to understand how their relationship has developed, succeeded and failed over the past 240 years. Pomfret does a masterful job of presenting the good, the bad and the ugly from generations of interactions." —South China Morning Post
"Takes the myriad historical milestones of two of the world's most powerful nations and turns them into one fluid, fascinating story, leaving us with a nuanced understanding of where these two nations stand in relation to one another and the rest of the world." —Publishers Weekly
"[F]ormer Washington Post foreign correspondent Pomfret, who was recently a Fulbright Senior Scholar in Beijing, delves into the historical relations between the two and offers a fresh appraisal of each nation's contributions to the other… [an] impressively wide-ranging history demonstrating that the U.S.–China relationship began decades before Richard Nixon arrived on the scene." —Kirkus Reviews
"John Pomfret has given us the most encompassing, vivid, and fair-minded account of the world's most important diplomatic relationship, with a warning on the risk of getting it wrong and a belief in the ability to get it right. A triumph of writing, research, and, above all, judgment."—Evan Osnos, National Book Award-winning author of Age of Ambition
"A tour de force. Beautifully written, sweeping in scope, learned, lively, and filled with fascinating stories, The Beautiful Country and the Middle Kingdom is a timely and important book written by one of the most brilliant and insightful China experts of our day." —Amy Chua, Yale Law Professor and author of Battle Hymn of the Tiger Mother and The Triple Package: How Three Unlikely Traits Explain the Rise and Fall of Cultural Groups in America
"If you are going to read one book on US-China relations, make it John Pomfret's The Beautiful Country and the Middle Kingdom. Superbly researched and historically grounded, this book soars on its rich narrative filled with fascinating vignettes. No one is more equipped than Pomfret by intellect, by experience, and by passion to attempt such an ambitious work – and he has skillfully delivered a masterpiece."—Karl W. Eikenberry, Ambassador and Lieutenant General, United States Army, Retired
"This is the best single book on the two-century-old history of Sino-American relations. Pomfret tells this colorful story through intriguing tales of individuals—Americans, Chinese, and Chinese-Americans. At the same time, he ably explains the transformations, tensions, and tragedies that have defined governmental ties. Pomfret has researched with care and weighed various interpretations with a keen eye and deft touch."—Robert B. Zoellick, Former President of the World Bank, US Trade Representative, and US Deputy Secretary of State
PRAISE FOR CHINESE LESSONS
"A compelling account of China's evolution. The communist country's emergence from isolation and impoverishment has been told before, but rarely in such intimate, and occasionally heart-rending detail."—David J. Lynch, USA Today
"Almost every page offers a new observation or insight, and thankfully, Pomfret's lucid style makes the book a pleasure to reread." —Chris Ulbrich, San Francisco Chronicle
Coverage from NPR