Far Out Man: Tales of Life in the Counterculture (Hardcover)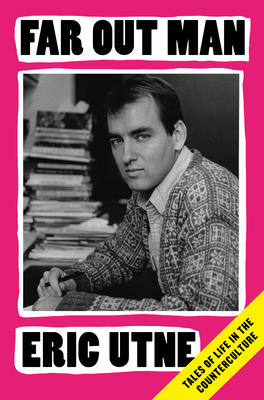 $28.00
In Stock—Click for Locations
Description
---
The founder of Utne Reader chronicles his adventures on the frontlines of American culture—from the Vietnam era to the age of Trump—as a spiritual seeker, antiwar activist, and minor media celebrity.

"Fascinating . . . a remarkable piece of social history."—Bill McKibben, author of Falter: Has the Human Game Begun to Play Itself Out?

Far Out Man is the story of a life-long seeker who was occasionally a finder as well. In 1984, Eric Utne founded Utne Reader, a digest of new ideas and fresh perspectives percolating in the arts, culture, politics, business, and spirituality. With the tag line "The Best of the Alternative Press," the magazine was twice a finalist for a National Magazine Award and grew to more than 300,000 paid circulation. In the nineties, the magazine promoted the Neighborhood Salon Association to revive the endangered art of conversation and start a revolution in people's living rooms. More than 18,000 people joined, comprising nearly 500 salons across North America. Utne devoted the magazine to bringing people together to help make the world a "little greener and a little kinder."

Far Out Man serves as a chronicle of both an individual life and a generation, covering the conflicts of the Vietnam era, the hopes and excesses of the sexual revolution and the Me Decade, the idealism and depredations of the entrepreneurial eighties and nineties, and the promise and perils of the digital age. Ultimately, Far Out Man is the story of Eric Utne's lifelong search for hope, how he lost it, and what he found on the other side that sustains him in his darkest moments. It is a book dedicated to helping all seekers become finders.
About the Author
---
Eric Utne, founder of the eponymous Utne Reader, is a journalist, publisher, and social entrepreneur. His name has been a New York Times crossword puzzle answer more than seventy times since 1994. Prior to starting Utne Reader, Utne managed a natural foods store, studied acupuncture and Chinese medicine, and was a literary agent and small business consultant. After leaving the magazine in 2000, he became the seventh-grade class teacher in an inner-city Waldorf school. In 2006, he was elected to the executive committee of the Nobel Peace Prize Forum. He is a senior fellow at the University of Minnesota's Center for Spirituality and Healing, where he co-authored a series of courses on the social and environmental dimensions of health and well-being. Utne earned a bachelor's degree in environmental design from the University of Minnesota. He is the father of four and grandfather of five, and makes his home in St. Paul, Minnesota.
Praise For…
---
"What a fascinating book—Eric Utne has been the Zelig of the counterculture, arriving early again and again at the place where the non-mainstream is flowing. He tells the story with verve and command; it's a remarkable piece of social history."—Bill McKibben, author Falter: Has the Human Game Begun to Play Itself Out?
 
"Far Out Man will take you on a journey, not just through one man's life, but through a pivotal time in American and world history. Always honest, often funny, sometimes profound, Eric Utne's life story shows us how we got here and even where we might go next. His journey will resonate with people from his generation and beyond."—Paul Kingsnorth, author of The Wake and Confessions of a Recovering Environmentalist

"In this ardent memoir, Utne, founder of the Utne Reader, frames his life as an American archetype: the young man seeking happiness, community, and meaning. Utne details his explorations in a conversational tone, with evocative stories. . . . The narrative is generally riveting thanks to its insight into multiple alternative cultural movements of the past half century. . . . Utne's earnestness and honesty are charming. Readers will find this an entertaining personal testament."—Publishers Weekly

"A memoir of tenderness and truth, honesty and humor, but far more than this: It is a rare gift to the reader, a how-to manual on the art of living. . . . I absolutely love it."—Jay Griffiths, author of Savage Grace: A Journey in Wildness

"No better guide to the past half-century could be found than Eric Utne. His journey, like that of the magazine he founded, touches on everything important in those turbulent times."—Kirkpatrick Sale, author of The Collapse of 2020