Asian Americans in Michigan: Voices from the Midwest (Great Lakes Books) (Paperback)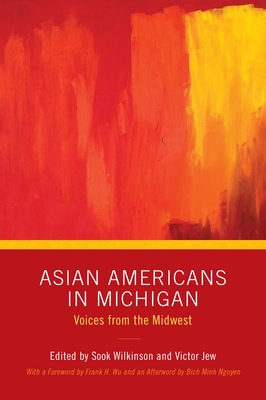 $34.99
Not On Our Shelves—Ships in 1-5 Days
Description
---
While the number of Asians in Michigan was small for a good portion of the state's history, many Asian-derived communities have settled in the area and grown significantly over time. In Asian Americans in Michigan: Voices from the Midwest, editors Sook Wilkinson and Victor Jew have assembled forty-one contributors to give an intimate glimpse into Michigan's Asian-American communities, creating a fuller picture of these often overlooked groups. Accounts in the collection come from a range of perspectives, including first-generation immigrants, those born in the United States, and third- and fourth-generation Americans of Asian heritage.
In five sections, contributors consider the historical and demographic origins of Michigan's Asian American communities, explore their experiences in memory and legacy keeping, highlight particular aspects of community culture and heritage, and comment on prospects and hopes for the future. This volume's vibrant mix of contributors trace their ancestries back to East Asia (China, Japan, Korea, Taiwan), South Asia (Bangladesh, India, Pakistan), and Southeast Asia (Cambodia, Laos, Philippines, Thailand, Vietnam, and the Hmong). Though each contributor writes from his or her unique set of experiences, Asian Americans in Michigan also reveals universal values and memories held by larger communities.
Asian Americans in Michigan makes clear the significant contributions by individuals in many fields-including art, business, education, religion, sports, medicine, and politics-and demonstrates the central role of community organizations in bringing ethnic groups together and preserving memories. Readers interested in Michigan history, sociology, and Asian American studies will enjoy this volume.
About the Author
---
Sook Wilkinson, Ph.D. is an author, psychologist, and community leader who has devoted more than thirty years of her life to improving the lives of others. Passionate about giving back, she serves as vice chair of the board of trustees at Northern Michigan University. She is active on many nonprofit and advisory boards, including those of Global Detroit and the Asian Pacific Islander American Health Forum. Previously, she served as chair of the Michigan Governor's Asian Pacific American Affairs Commission. Victor Jew received his B.A. in history from the University of California-Los Angeles and his doctorate in U.S. history from the University of Wisconsin-Madison, where he currently teaches in the Asian American Studies Program. He taught at institutions such as Cornell University and Michigan State University, where he offered that campus's first course in Asian American history. He has written on anti-Asian violence in the nineteenth century (Milwaukee in 1889 and Los Angeles in 1871) and is working on a history of Asian American communities in the Midwest from 1870 to the present.