Partly Colored: Asian Americans and Racial Anomaly in the Segregated South (Paperback)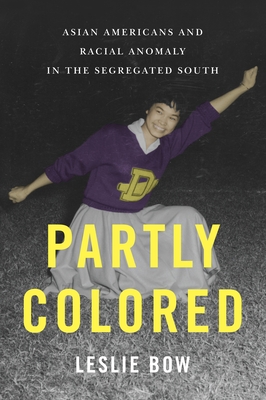 $28.00
Not On Our Shelves—Ships in 1-5 Days
Description
---
2012 Honorable mention for the Book Award in Cultural Studies from the Association for Asian American Studies
Arkansas, 1943. The Deep South during the heart of Jim Crow-era segregation. A Japanese-American person boards a bus, and immediately is faced with a dilemma. Not white. Not black. Where to sit?
By elucidating the experience of interstitial ethnic groups such as Mexican, Asian, and Native Americans--groups that are held to be neither black nor white--Leslie Bow explores how the color line accommodated--or refused to accommodate--"other" ethnicities within a binary racial system. Analyzing pre- and post-1954 American literature, film, autobiography, government documents, ethnography, photographs, and popular culture, Bow investigates the ways in which racially "in-between" people and communities were brought to heel within the South's prevailing cultural logic, while locating the interstitial as a site of cultural anxiety and negotiation.
Spanning the pre- to the post- segregation eras, Partly Colored traces the compelling history of "third race" individuals in the U.S. South, and in the process forces us to contend with the multiracial panorama that constitutes American culture and history.
About the Author
---
Leslie Bow is Professor of English and Asian American Studies at the University of Wisconsin, Madison. She is author of "Betrayal and Other Acts of Subversion."