Dissonant Divas in Chicana Music: The Limits of La Onda (Hardcover)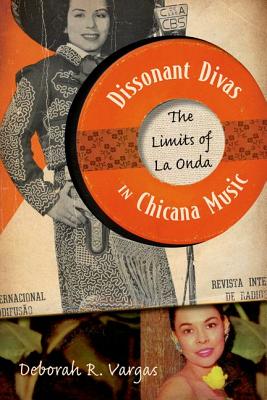 $67.50
Special Order—Subject to Availability
Description
---
Musical sound has been central to heteromasculinist productions of nation and homeland, whether Chicano, Tejano, Texan, Mexican, or American. If this assertion holds true, as Deborah R. Vargas suggests, then what are we to make of those singers and musicians whose representations of gender and sexuality are irreconcilable with canonical Chicano/Tejano music or what Vargas refers to as "la onda"? These are the "dissonant divas" Vargas discusses, performers who stimulate our listening for alternative borderlands imaginaries that are inaudible within the limits of "la onda."
Dissonant Divas in Chicana Music focuses on the Texan monument of the Alamo and its association with Rosita Fernandez; Tejano corrido folklore and its musical antithesis in Chelo Silva; the female accordion-playing bodies of Ventura Alonza and Eva Ybarra as incompatible with the instrumental labor of conjunto music; geography as national border, explored through the multiple national music scales negotiated by Eva Garza; and racialized gender, viewed through Selena's integration of black diasporic musical sound. Vargas offers a feminist analysis of these figures' contributions by advancing a notion of musical dissonance—a dissonance that recognizes the complexity of gender, sexuality, and power within Chicana/o culture.
Incorporating ethnographic fieldwork, oral history, and archival research, Vargas's study demonstrates how these singers work together to explode the limits of Texan, Chicano, Tejano, Mexican, and American identities.

About the Author
---
Deborah R. Vargas is associate professor of Chicano/Latino studies at the University of California, Irvine.
Praise For…
---
"With Dissonant Divas, Deborah R. Vargas makes us the gift of a more vibrant and expansive soundscape for hemispheric cultural studies. By broadening and interrogating the archive of Mexican and Mexican American popular music, Vargas restores a pantheon of Mejicana recording artists to their place at the center of a musical scene where artists contested the boundaries of gender, sex and nation through innovative performance and subversive self-styling. Like the music it so artfully engages, Dissonant Divas is a landmark text, beautifully conceived and written, with much to offer a wide range of audiences."—Alicia Schmidt Camacho, Yale University
"This arrival is at a keen theory of musical dissonance, not unlike many of the culturally entwined elevations already in your own music collection. Dissonant Divas is high quality feminist academic scribing, worth it alone for turning the unfamiliar on to the bold, bawdy boleros of Chado Silva, but has much else to offer as well."—KEXP Radio
"Vargas's sustained engagement of race, class, gender, and sexuality with Chicana/o borderlands music is thoroughly new."—Sounding Out!
"Professor Vargas provides a new lens into the identities and histories that emerge from the new cultural space Anzaldua referred to as the borderlands."—New Books Network
"An accessible and thought-provoking project seeking not only a space and recognition for these musicians without a Mexican-American sonic landscape, but also creating a site for the emergence of alternative genealogies and topographies."—Latino Studies
"In Dissonant Divas, Deborah Vargas examines the lived experiences, musical contributions, and performative transgressions that led a select group of women to not only break new ground as artists and reimagine largely male-dominated canons of Chicano, Tejano and Mexicano popular music styles, but to challenge dominant notions of sound, visibility and integration."—Ethnomusicology