Jeffrey's Latest Thirteen: More Alabama Ghosts, Commemorative Edition (Hardcover)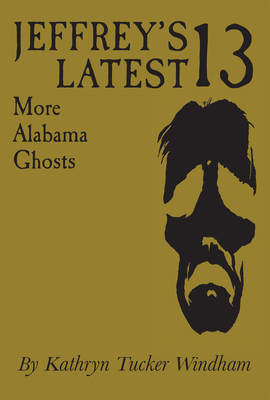 $29.95

Special Order—Subject to Availability
Description
---
Jeffrey's Latest Thirteen: More Alabama Ghosts is a deluxe, commemorative edition of a beloved collection of ghostly stories from famed southern author and folklorist Kathryn Tucker Windham's home state of Alabama.

Accompanied by her faithful companion, Jeffrey, a friendly spirit who resided in her home in Selma, Alabama, Kathryn Tucker Windham traveled the South, visiting the sites of spectral legends in Mississippi, Georgia, and Tennessee, among other places. In Jeffrey's Latest Thirteen: More Alabama Ghosts, a sequel to her landmark Thirteen Alabama Ghosts and Jeffrey, Windham introduces readers to thirteen more of Jeffrey's ghostly acquaintances, each with the charm and universal appeal that has created hundreds of thousands of Jeffrey fans.
 
Among the other hair-raising tales in this collection, Windham spotlights the apparitions of academia. From the three Yankee soldiers who haunt the University of Alabama's Civil War–era Little Round House to the Confederate soldier who resides in the University Chapel at Auburn University, Alabama's institutions of higher learning seem to have more than a few paranormal pupils.
 
Photographs of the sites about which Windham writes are one of the best-loved features of her series of "Jeffrey the Ghost" books. Jeffrey's Latest Thirteen features the image of a beautiful child who, though not photographed in life, reappeared long enough to be photographed with his bereaved father's borrowed camera. Bewitched readers will find the startling photograph of the child in the next-to-last chapter, just pages before he book's photograph of Windham's own spectral muse, Jeffrey.
 
This commemorative edition returns Windham's thrilling classic to its original 1982 keepsake quality and includes a new afterword by the author's children.
About the Author
---
Kathryn Tucker Windham grew up in Thomasville, Alabama, the youngest child in a large family of storytellers. For many years a Selma resident, Windham was a freelance writer, collected folklore, and photographed the changing scenes of her native South. A nationally recognized storyteller and a regular fixture on Alabama Public Radio, her commentaries were also featured on National Public Radio's "All Things Considered." Her other books include Thirteen Alabama Ghosts and Jeffrey, Jeffrey Introduces Thirteen More Southern Ghosts, Thirteen Georgia Ghosts and Jeffrey, Thirteen Mississippi Ghosts and Jeffrey, and Thirteen Tennessee Ghosts and Jeffrey.
Praise For…
---
"In Windham's tales . . . myth and fact intertwine to present a picture of the South that is as true as any textbook."
—Paris Review
"Almost every town has its own ghostly legends. It's separating fact from fiction and fantasy that requires someone of Mrs. Windham's expertise."
—
Huntsville Times