Barbecue: The History of an American Institution, Revised and Expanded Second Edition (Hardcover)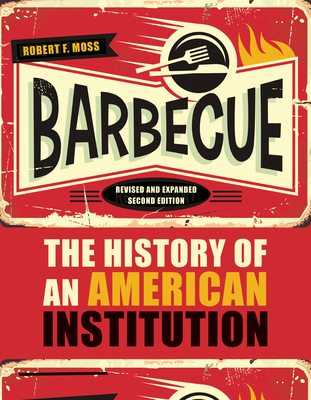 $34.95

In Stock—Click for Locations
Description
---
The definitive history of an iconic American food, with new chapters, sidebars, and updated historical accounts

The full story of barbecue in the United States had been virtually untold before Robert F. Moss revealed its long, rich history in his 2010 book Barbecue: The History of an American Institution. Moss researched hundreds of sources—newspapers, letters, journals, diaries, and travel narratives—to document the evolution of barbecue from its origins among Native Americans to its present status as an icon of American culture. He mapped out the development of the rich array of regional barbecue styles, chronicled the rise of barbecue restaurants, and profiled the famed pitmasters who made the tradition what it is today.

Barbecue is the story not just of a dish but also of a social institution that helped shape many regional cultures of the United States. The history begins with British colonists' adoption of barbecuing techniques from Native Americans in the 17th and 18th centuries, moves to barbecue's establishment as the preeminent form of public celebration in the 19th century, and is carried through to barbecue's ubiquitous standing today.

From the very beginning, barbecues were powerful social magnets, drawing together people from a wide range of classes and geographic backgrounds. Barbecue played a key role in three centuries of American history, both reflecting and influencing the direction of an evolving society. By tracing the story of barbecue from its origins to today, Barbecue: The History of an American Institution traces the very thread of American social history.

Moss has made significant updates in this new edition, offering a wealth of new historical research, sources, illustrations, and anecdotes.
 
About the Author
---
Robert F. Moss is a food writer and culinary historian living in Charleston, South Carolina. He is the contributing barbecue editor for Southern Living, the restaurant critic for the Charleston City Paper, and frequent contributor to publications like Serious Eats, Saveur, The Local Palate, Early American Life, and Garden & Gun.
 
Praise For…
---
"I thought the first edition of Barbecue: The History of an American Institution was the last word on the subject, but I was wrong. This revised edition is even better. The research that underlies every paragraph—almost every line—leaves me awed. This is a great history of barbecue, and actually a pretty good introduction to the history of America."
—John Shelton Reed, author of Holy Smoke: The Big Book of North Carolina Barbecue

" Robert Moss cites murder and mayhem in 19th-century North Carolina barbecue stands. He tracks an early Tennessee pitmaster who earned a national reputation for ribs. And he follows Texas cotton pickers from the fields to the pits. Leveraging archival research, he documents and contextualizes a system of foodways too long shrouded in essentialist narratives and obscuring myths."
—John T Edge, author of The Potlikker Papers: A Food History of the Modern South