Sheep Won't Sleep (Paperback)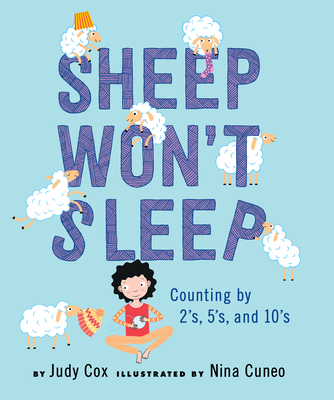 $8.99

In Stock—Click for Locations
Description
---
Counting sheep is supposed to help you sleep—but a room full of yaks, alpacas, and llamas would keep anyone awake in this counting book with a comical twist.

Winner of the Mathical Book Prize!

A glass of warm milk, reading, working on her knitting—nothing can help Clarissa get to sleep. When even counting sheep doesn't help her doze off, she tried pairs of alpacas instead. Two, four, six . . . then llamas by fives . . . then yaks by tens!

But no one could sleep with a room full of bouncing, bleating, shedding animals. Determined to unravel her problem so she can get some sleep, Clarissa counts back down until she's all alone, and she can finally get some rest.

Introducing addition and subtraction by ones, twos, fives, and tens, Sheep Won't Sleep is part bedtime story, part math practice— and the hilarious illustrations of spotted, striped, and plaid animals are sure to appeal to imaginative readers of all ages.  A perfect-- and fun!-- way to introduce and reinforce counting in groups, this is sure to be a study- and bedtime favorite!
About the Author
---
Judy Cox is a former elementary school teacher and the author of picture books such as Haunted House, Haunted Mouse and chapter books including Ukulele Hayley, a Bank Street College Best Book, and The Secret Chicken Society, which was nominated for four state awards and named a Best of the Best title by the Chicago Public Library. She lives in Oregon.

Nina Cuneo is a Swedish-Italian artist. She is the founder of Studio Armadillo, a graphic design and illustration studio based in Milan, Italy. In addition to illustrating children's books in Europe and North America, she has created editorial illustrations for La Repubblica.
Praise For…
---
"This story provides an entertaining and humorous introduction to skip counting suitable for early elementary students. It will certainly be enjoyed by animal lovers, insomniacs, and anyone familiar with the conspicuous amount of math involved in knitting."—School Library Journal
 
" Children can count along, add the numbers, and then subtract them in this enjoyably crafty bedtime tale. The pen-and-digital ink drawings feature one black-haired, white Clarissa and a multitude of appealing and colorful critters, beloved by all knitters. Count them, play with them, and knit them into one wonderful blanket."—Kirkus Reviews