How to Raise an Ox: Zen Practice as Taught in Master Dogen's Shobogenzo (Paperback)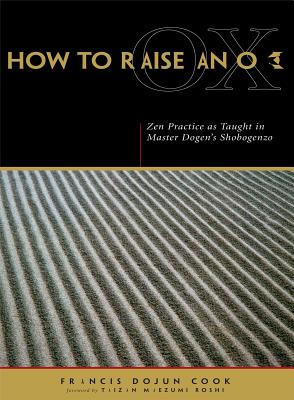 $16.95
Not On Our Shelves—Ships in 1-5 Days
Description
---
The writings of Zen master Dogen are among the highest achievements not only of Japanese literature but of world literature. Dogen's writings are a near-perfect expression of truth, beautifully expressing the best of which the human race is capable. In this volume, Francis Cook presents ten selections from Dogen's masterwork, the Shobogenzo, as well as six of his own essays brilliantly illuminating the mind of this peerless master.
About the Author
---
Francis Dojun Cook was born and raised in a very small town in upstate New York in 1930. He was lucky to be an ordinary kid with ordinary parents. By means of true grit and luck, he managed to acquire several academic degrees and learn something about Buddhism. More luck in the form of a Fulbright Fellowship enabled him to study in Kyoto, Japan, for a year and a half, where he would have learned more had he not spent so much time admiring temple gardens. He now teaches Buddhism at the University of California, Riverside, and is director of translations at the Institute for Transcultural Studies in Los Angeles. He remains ordinary, but to his credit it can be said that he raised four good kids, has a great love for animals, and cooks pretty well. A sign that at last he is becoming more intelligent is that he became a student of Maezumi Roshi several years ago, the best thing he ever did. He is also the author of Hua-yen Buddhism: The Jewel Net of Indra, and of various articles on Buddhism in scholarly journals.

Hakuyu Taizan Maezumi (1931-95) was a Japanese Zen Buddhist teacher and roshi, and lineage holder in the Soto, Rinzai and Harada-Yasutani traditions of Zen. He combined the Rinzai use of koans and the Soto emphasis on shikantaza in his teachings, influenced by his years studying under Hakuun Yasutani in the Harada-Yasutani school. He founded or co-founded several institutions and practice centers, including the Zen Center of Los Angeles, White Plum Asanga, Yokoji Zen Mountain Center, and the Zen Mountain Monastery. Taizan Maezumi left behind twelve Dharma successors, appointed sixty-eight priests and gave Buddhist precepts to more than five hundred practitioners. Along with Zen teachers like Shunryu Suzuki-roshi, Seung Sahn Dae Soen Sa Nim, and Venerable Hsuan Hua, Maezumi greatly influenced the American Zen landscape. Several Dharma Successors of his-including Tetsugen Bernard Glassman, Dennis Merzel, John Daido Loori, Jan Chozen Bays, Gerry Shishin Wick, Charlotte Joko Beck, and William Nyogen Yeo-have gone on to found Zen communities of their own. Maezumi died unexpectedly while visiting Japan in 1995.
Praise For…
---
"An ideal introduction for those newly exploring the masterworks of Buddhist thought."
— John Daishin Buksbazen, author of Zen Meditation in Plain English

"The author's purpose is to clarify what Dogen's 'Zen of practice' actually means. We can measure his success not only by the vividness of his introduction to Dogen's thought, but also by the surprise we find in discovering the breadth and diversity of 'practice' as Dogen meant it."
— Tricycle

"Simply the best, clearest, and most concise introduction to Dogen's Zen."
— Barry Magid, author of Ordinary Mind: The Common Ground of Zen and Psychotherapy

"How to Raise an Ox is an outstanding introduction to the most important Zen master in Japanese history. Francis Dojun Cook provides a brilliant translation of ten carefully selected chapters from Dogen's masterpiece, Shobogenzo. These chapters are preceded by a series of short essays written by Cook, which distill the essence of what follows and provide an ideal introduction to it. These essays are masterpieces of lucidity and insight that help the reader to grasp the more subtle and elusive aspects of Dogen's profound and extraordinarily creative writing. Cook has a remarkable grasp of the heart of Dogen's thinking and a genius for communicating it."
— Jeremy D. Safran, Ph.D., Professor of Psychology, New School University, and Co-author of Negotiating the Therapeutic Alliance

"Many thanks to Dr. Cook for shedding valuable light on the profound teachings of Dogen."
— Andy James, author of The Conscious I

"A key to unlocking the considerable treasury of Zen heritage."
— Publishers Weekly

"Dr. Cook has succeeded in illuminating Dogen's work. [How To Raise An Ox] can assist you in deepening your understanding of Zen practice and is an excellent tool for the serious student of the Soto Zen form."
— New Perspectives

"An important sourcebook for Zen practitioners."
— John Daido Loori, Abbot of Zen Mountain Monastery